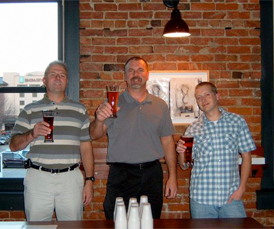 Founded: March 2009
Membership: 12
Location: Omaha, NE
Mailing Address: 2209 Whitted Dr., Bellevue, NE 68123
Email: dustin@railroadersbrewclub.com or brian@railrodersbrewclub.com
Website: http://railroadersbrewclub.com
Club Motto: "It's all about the beer!"
Membership Dues: $5/month
Who we are and how we got started:
We started as a few Union Pacific employees who wanted to enjoy good craft beers without having to shell out commercial prices…and so it began. Brian Schlueter, Steve Moore and Bill Furnas set out on a brewing adventure and began getting together to compare homebrews. After a short time, through family, friends and other railroad employees, the membership has grown to about a dozen. Monthly meetings/competitions have come to attract anywhere from 10-30 people to taste our club's latest creations. Wherever we go we try to educate the public about our club and encourage the art of fine homemade craft brews!
Meetings:
Meetings can consist of monthly BJCP style competitions, BJCP style tastings or patio brew days. All competitions and brew days are open for the public to come out and learn and enjoy the homebrew experience.
Typically our meetings are held at Nebraska Brewing Company, but we try to move it around to accommodate everyone. Our last meeting was in collaboration with the South Omaha Brewers to celebrate Big Brew 2011. As we brewed, we sampled other homebrews from the two clubs and drank craft beers from 36 taps at Brass Monkey Sports Bar in Omaha.
We also usually get together at a member's house to study a particular style of beer. We compare commercial examples against homebrews and follow along the BJCP guidlines to not only learn about style, but also to engage our palettes for the upcoming competitions. It's a great way to expand your horizons on different styles, techniques and flavors.
Competitions:
Monthly competitions are held at Nebraska Brewing Company in Papillion, NE. We get together as a club and bring our best homebrew of a particular BJCP style. These competitions are open to the public to come out and taste and judge our beers. The winner, based on the taster's judging sheets, will win a brew kit for the next competition.
Our last competition was in April and categorized around stouts. We had about 6 or 7 beers to judge that day, which turned out pretty well. Nebraska Brewing Company has been very gracious in partnering with us for our competitions, and have been kind enough to donate additional prizes which are awarded to "runner-up" beers from our tastings.
As far as BJCP competitions, we have recently entered some beers with great success. Steve Moore placed 3rd in the stout category with his Oaked American Stout at the Nebraska Homebrew Shootout. We also entered beers into the 2009 & 2010 River City Roundup competition with five of our members placing in the competition.
Other Activities:
We do two to three brew days per year at a member's house as a relaxing get-together to make and share homebrews. This has been a great way for interested parties to come and learn about the brewing process.
We usually reserve a space at most of our local beer festivals here in the Omaha area to spread the word about the Railroaders Brew Club, and homebrewing in general.
Above all else, we love good beer! We have a pretty talented group of brewers and we like to keep things as stress free and fun as possible. Remember – Sit back, relax and have a homebrew!
Homebrewers Association
Homebrewers Association