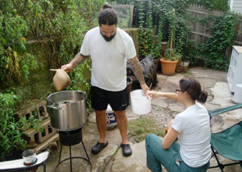 Homebrewing in New York City may seem like a tricky venture when you consider the amount of equipment and space needed to create even an extract beer. However, this hasn't stopped the Big Apple from displaying one of the nation's fastest growing homebrew scenes. Along with the craft beer revolution, homebrew shops and beer enthusiasts all over the NYC area are popping up and contributing to the new era of drinking quality hand crafted brews.
Until recently though, Staten Island had continued to uphold its status as the "Forgotten Borough". Why you ask? Well not only has it lacked city spending when compared to the city's other four boroughs, but was in desperate need of a local club where homebrewers or even just the curious beer drinker could go to share ideas and try something new. Mark Zappasodi, passionate homebrewer and Staten Island local, responded to this need with the creation of The New Brighton Homebrew Society (NBHS).
Brewing began for Mark, like for many homebrewers, as simple curiosity and the desire to explore the world of better beer. After some inspiration from European brews while on honeymoon with his wife, and later receiving a homebrew kit as a gift from her, beer became an artistic hobby for him that was not only about drinking good beer, but about the communal experience of brewing and sharing a beer with someone else.
While there were dozens of clubs in the other boroughs of New York, the homebrewers of Staten Island weren't represented at that point, and as Mark and some of his friends were looking for ways to expand on their new found passion for beer, they decided to start their own club.
The New Brighton Homebrew Society was founded in 2009 on the North Shore of Staten Island and has since grown to two dozen members. Their goal is to provide the opportunity for anyone to become better brewers as well as for people to become more educated about beer and develop a palate for its many different styles. Meetings are held the third Sunday of every month, with agendas alternating between "brew sessions" and "tastings." As each session is devoted to a particular style of beer, members are encouraged to bring in their own favorite craft beer versions or homebrewed styles for others to sample and compare.
All are welcome to attend NBHS meetings, and can even participate in the tasting sessions. If interested, you can find out more about New Brighton Homebrew Society on their facebook page as well as their blog and can be reached by email at newbrightonbrewing@si.rr.com
Homebrewers Association
Homebrewers Association