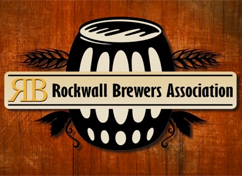 AHA member since Dec. 2009
15 members
Based in Rockwall, Texas
Born out of a passion for creativity and a desire to try new things, The Rockwall Brewers Association was founded in 2009 by high school friends Brett Williams and Evan Matteson and has quickly become a premier homebrew club in Texas. The club's humble beginnings can be traced back to Brett and Evan's endeavors into making wine from kits and homemade liqueurs. After some success, they decided it was time to try to brew their own beer.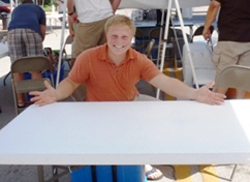 "With great instruction from our local homebrew supply store, some help from the internet, and a little luck, our first beer (a stout) was one of the most delicious beers we had ever tasted. We were, of course, hooked. After sharing our beer and our story with friends, we quickly realized that there was a large community of people interested in brewing great beer, but they just didn't know where to start. We decided that we would help them, and formed the club to do just that."
Members soon began joining and the club launched rockwallbrewers.com where members can post information about every batch they brew, post tips and brew help, as well as let others know about upcoming events. The website, which is promoted through Facebook and Twitter, has helped create positive exposure for the club and has attracted new members.
The clubs first official entry into competition was at Eno's Brew Riot where Brett and Evan's hard cider, "The Johnny", took first place in the cider category. Based on the success of this venture into the world of competitive homebrewing, the club decided to work with local business owners and plan the first ever Rockwall Brewfest. The competition is currently planned for October 16th, 2010 and will feature a BJCP judging panel, beer sampling, food, and live music. Check out www.rockwallbrewfest.com for more information.
In less than a year's time the club has brewed over 20 batches of beer and has had a great time doing it. Through trial and error, collaborative efforts, and pure passion, the club is slowly building and crafting the brewing techniques that will prepare them for more competitive brewing. The club meets on a monthly basis and activities include club brew nights, brewery tours, and other fun special events. For more information visit www.rockwallbrewers.com.
"When pretty much everything around us is commercialized and fast-paced, it is nice to go back to "our roots" to learn how things are made. And the unexpected result has been that the end product is usually significantly better than what you can get in a store, better for you, and allows you to slow down and experience life with family and friends." -Evan
Homebrewers Association
Homebrewers Association