1
« on: January 16, 2012, 03:10:01 PM »
I thought I would put this here in the General Discussion section since it wasn't really a commercially available beer.
I finally decided that 2012, would be the year I would taste a most remarkable bottle of a beer. A beer so special it was brewed for Sir George Nares( a British naval captain) who in 1875 set off to reach the North Pole.
By the later half of the 19th century, Samuel Allsopp's and Son, had already become one of the largest breweries in England and only second in size to Bass Ale in Burton on Trent. In 1852, on a rescue mission to discover the whereabouts of Sir John Franklin( another British explorer) , who had set off in search of the fabled Northwest Passage, Samuel Allsopp had created a monster of an ale called "Arctic Ale". This ale was brewed to 1.130 OG, and was thought to contain some special "Antiscorbutic" properties( containing vitamin C) to prevent scurvy, which was the fatal downfall of long voyages at sea.
Allsopp's Arctic Ale , was brewed only three times in all of the 19th century, once in 1852, again in 1857 , and finally in 1875. Since special brewings like this are so rare, it would be almost impossible to obtain a sample in the day, yet alone 160 years later. To date, only 3 noted beer writers have even sampled tastings and wrote about this beer, Alfred Barnard in 1889, William Henry Beable in 1926 and CAMRA's Roger Protz 2010 ( for which I arranged a bottle for Roger to drink and write about).
Of the 3 brewings of this extreme 19th century beer, there exists only 2 bottles of the 1852 batch, I own one, and the other was the subject of a great Ebay story, back in 2007. The 1857 batch, I own the only known bottle left, and of the 1875 batch, there are only about a dozen left, I own 2, and the rest are in the National Brewery Centre Museum in England. I found the dozen bottles while in Burton giving a talk to members of CAMRA on the history of Allsopp's brewery.
In 2010, the old Allsopp's brewery was in bad shape and about to become apartment flats, it had been abandoned since the 1980's and workers where throwing many items away. I was lucky enough to take one "last" tour of the building, and it was deep inside the basement, tucked away in a cage, that I found the last remaining bottles of Arctic Ale. The 1875 version was the only ale bottled in a Champagne style bottle the brewery ever produced, there is even an article in the British Archives mentioning the bottles and how many where left in 1886. Further verification came from an old retired brewery archivist, whom confirmed their existence and authenticity.
The basement find:
The Old Allsopp's Brewery 1856 :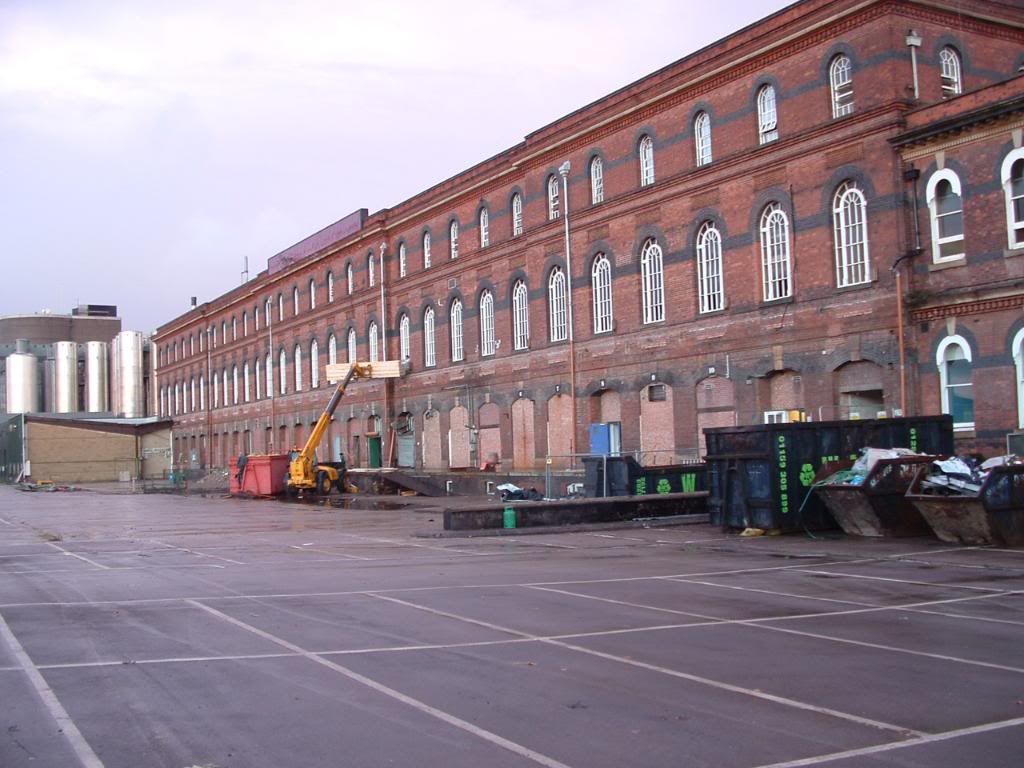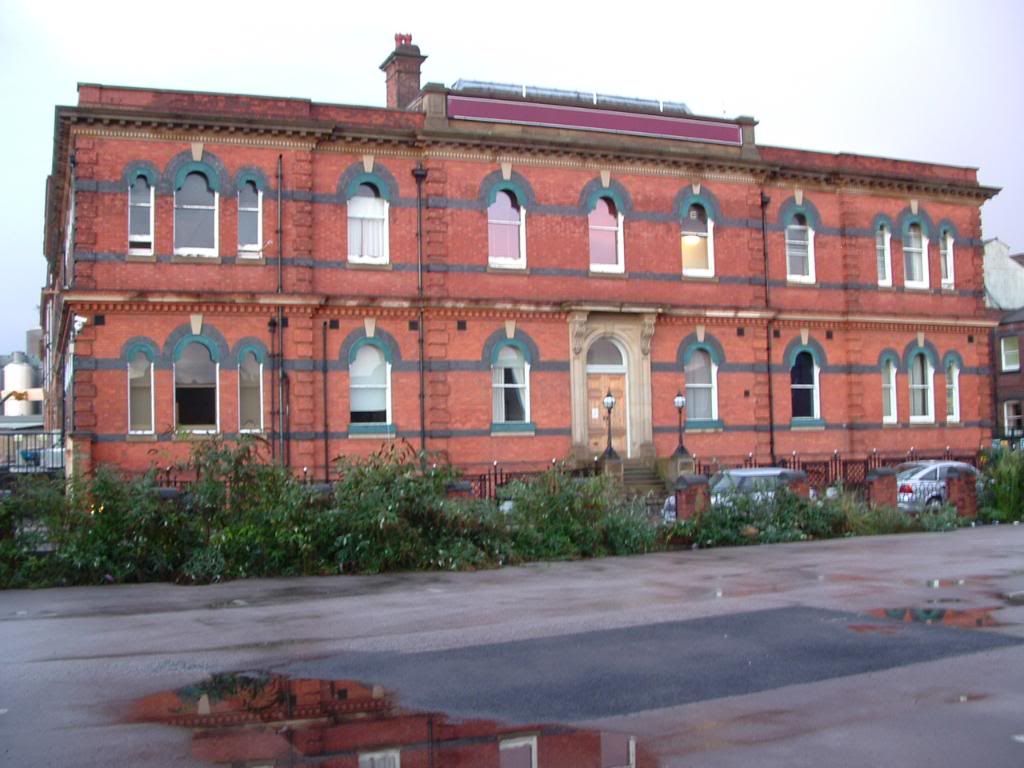 In March of 2011, I had been contacted by beer author Roger Protz to accompany him in a tasting of the Arctic Ale, with head brewmaster Steve Wellington ( Worthington Museum Brewery) and some senior members of CAMRA whom I am friends with.
Along side the 1875 version, where a bottle of 1902 Bass& Co. "king's ale" , brewed in conjunction with King Edward the VII, and also a Arctic Global Warmer style Barleywine (15% abv) from the "North Cotswolds" brewery.
Here's some shots from the day:
Steve Wellington and his assistant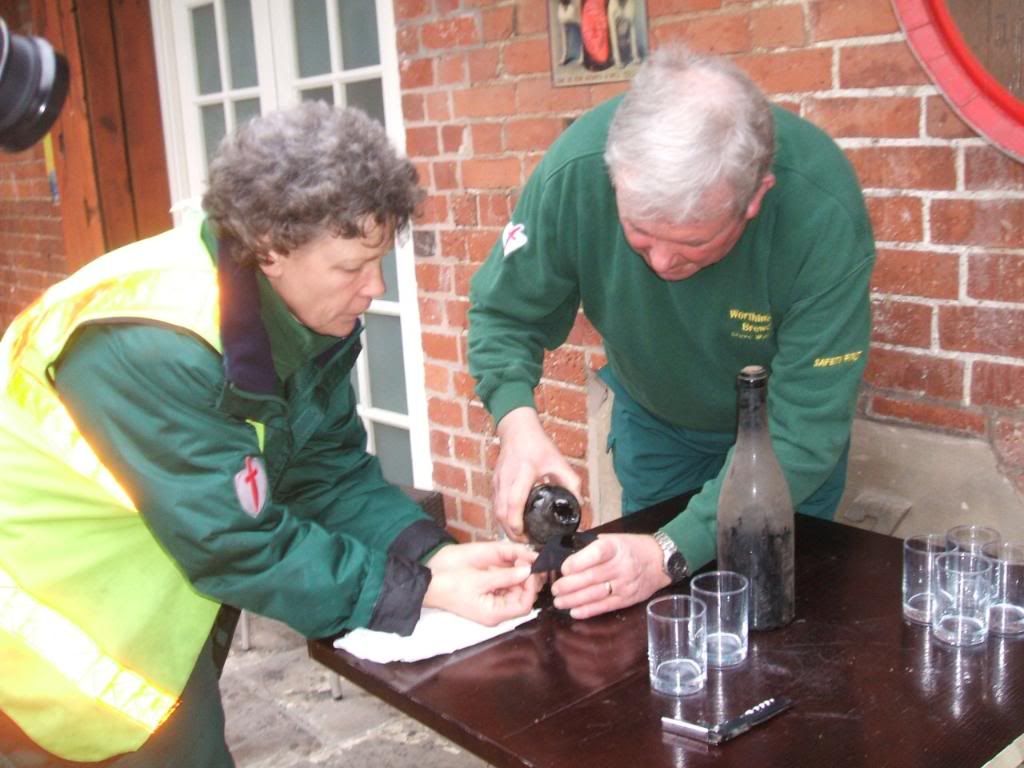 Roger Protz, beer author and CAMRA mega star: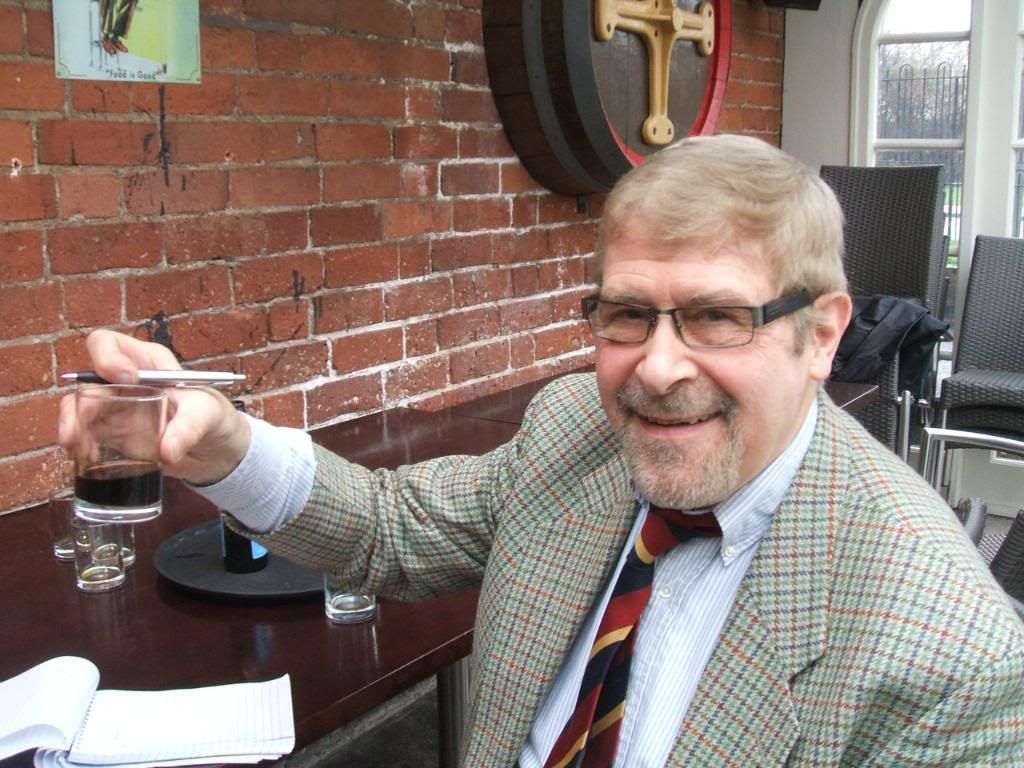 Tasting glass from 1902, 1875 and 2006: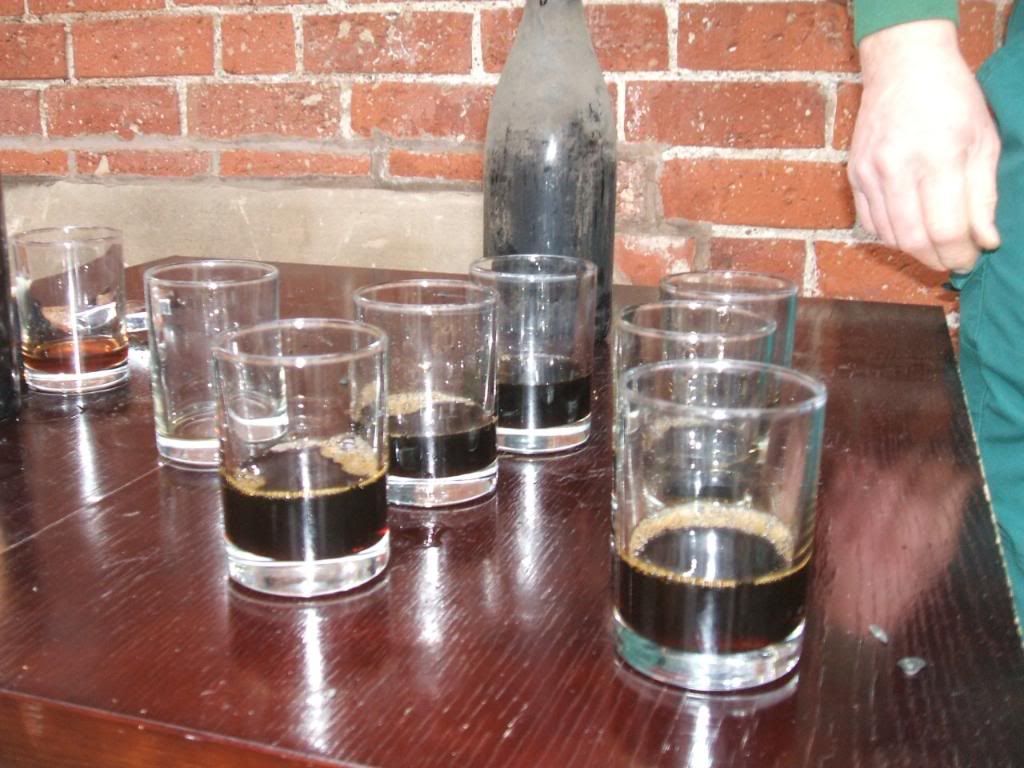 1875 Arctic Ale - not my hand BTW
Here are Roger's notes on the ale:
"It was dark amber in color and had an astonishingly complex aroma of dry chocolate, cocoa powder, molasses and vinous fruit. The palate offered creamy malt, sweet fruit and further chocolate and cocoa hints, followed by a bittersweet finish with dark fruit, rich malt and light hops."
I have been a vintage beer collector, brewing re-creator and beer historian for almost 7 years now and have been lucky enough to own some of the rarest beers in the world. I also own a few of the Bass corkers, like Ratcliff Ale 1869, Prince's Ale, Princess Ale, and Bass #1 Barleywine, as well as several 1902 King's Ales.
So, a recently decided to share a bottle of the 1875 brewing with some very good friends on a very cold winter's night, with visions of steering a Victorian ship right up to the North Pole with Arctic Ale in hand !
Of course no good ale goes without a finely prepared meal and we chose a menu fit for the occasion.
Rib Roast !
Yorkshire Pudding !
Roasted Potato's and Asparagus: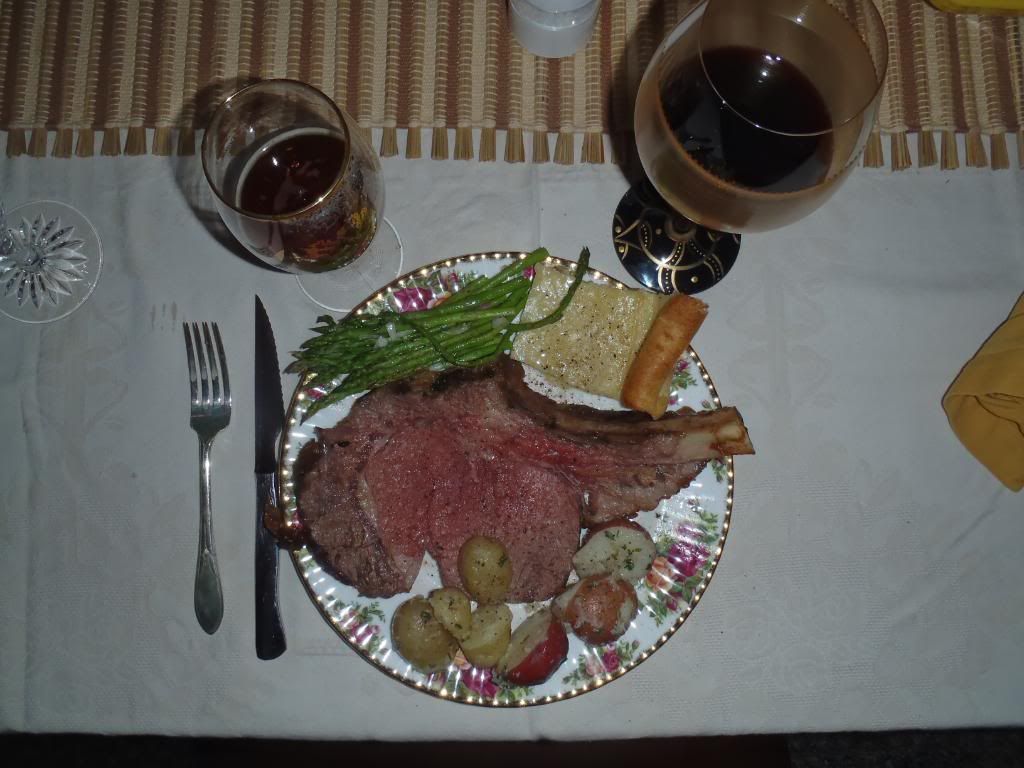 Then it was time for desert !
The time to taste had arrived !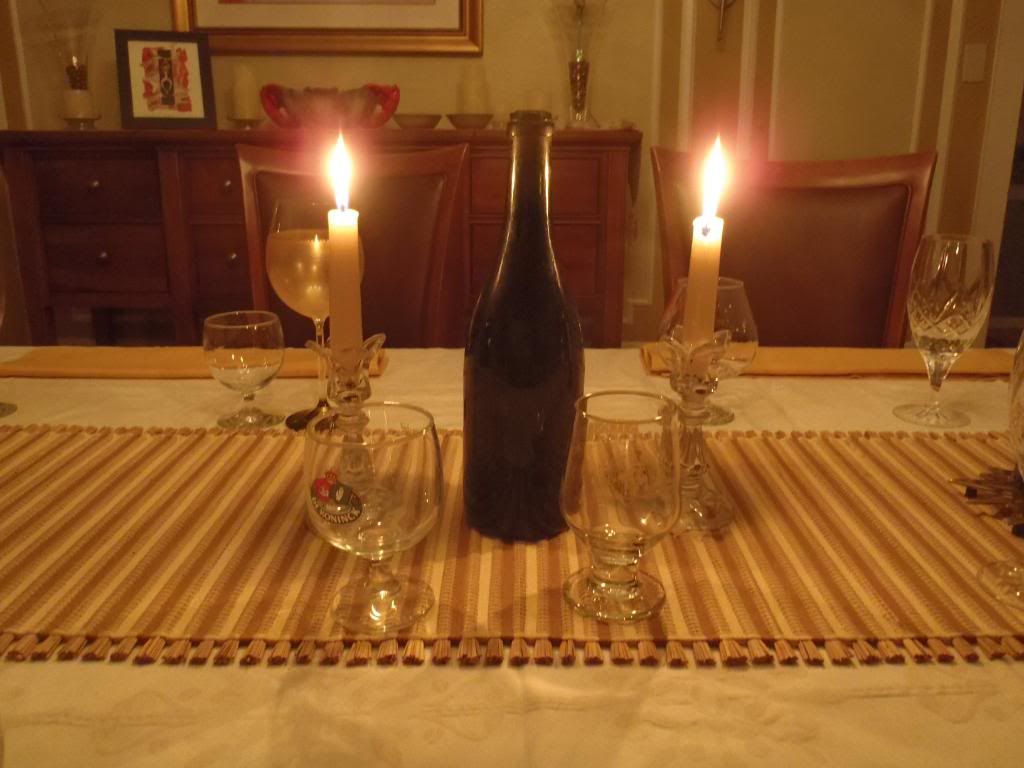 As carefully as I could, I tried to remove it in one piece, but then again this is a 137 year old bottle ......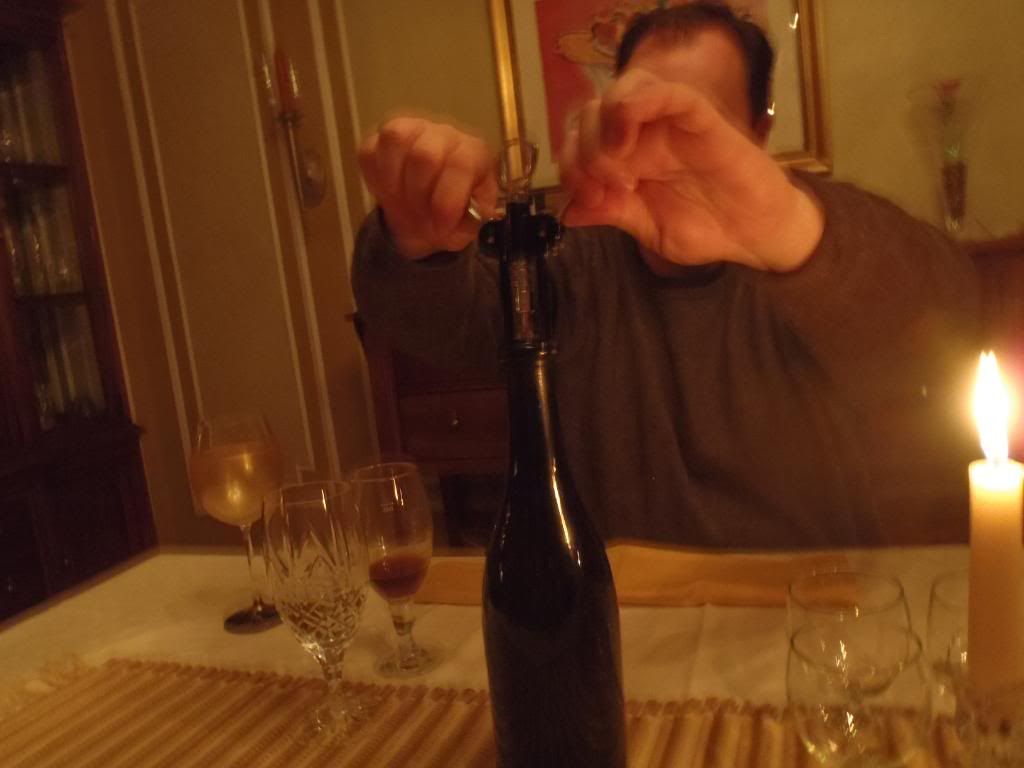 Mush....soft cork !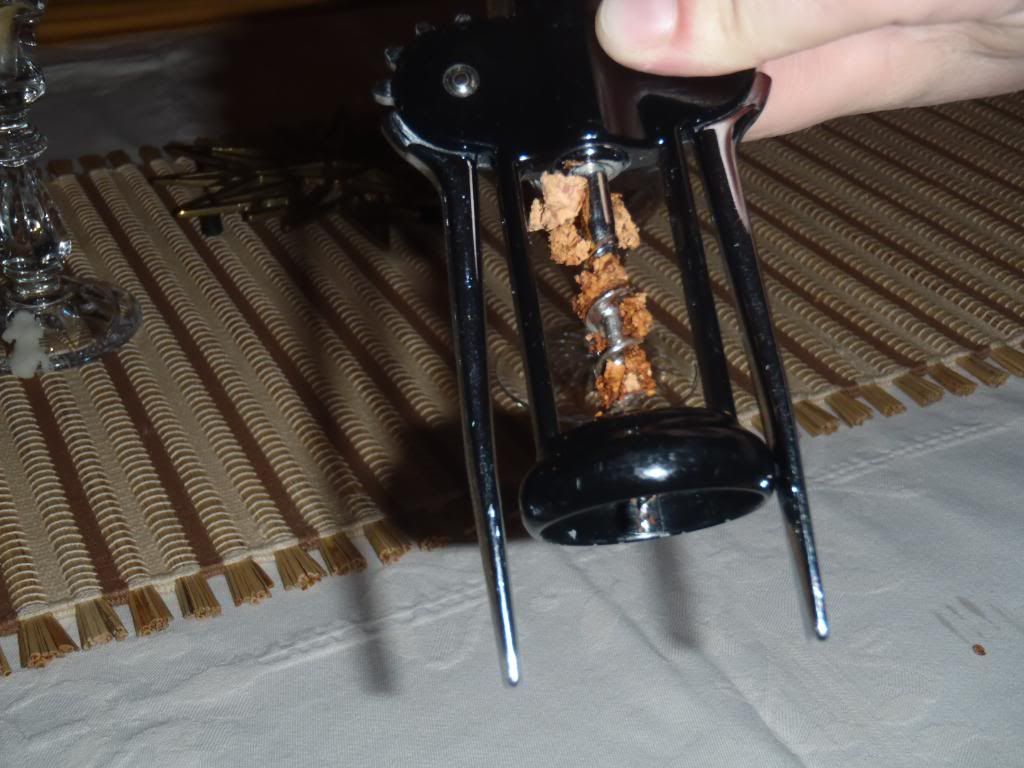 With a little care ( and a knife !) , I was able to remove a core in the center and the ale started flowing !, oh the smell of old beer !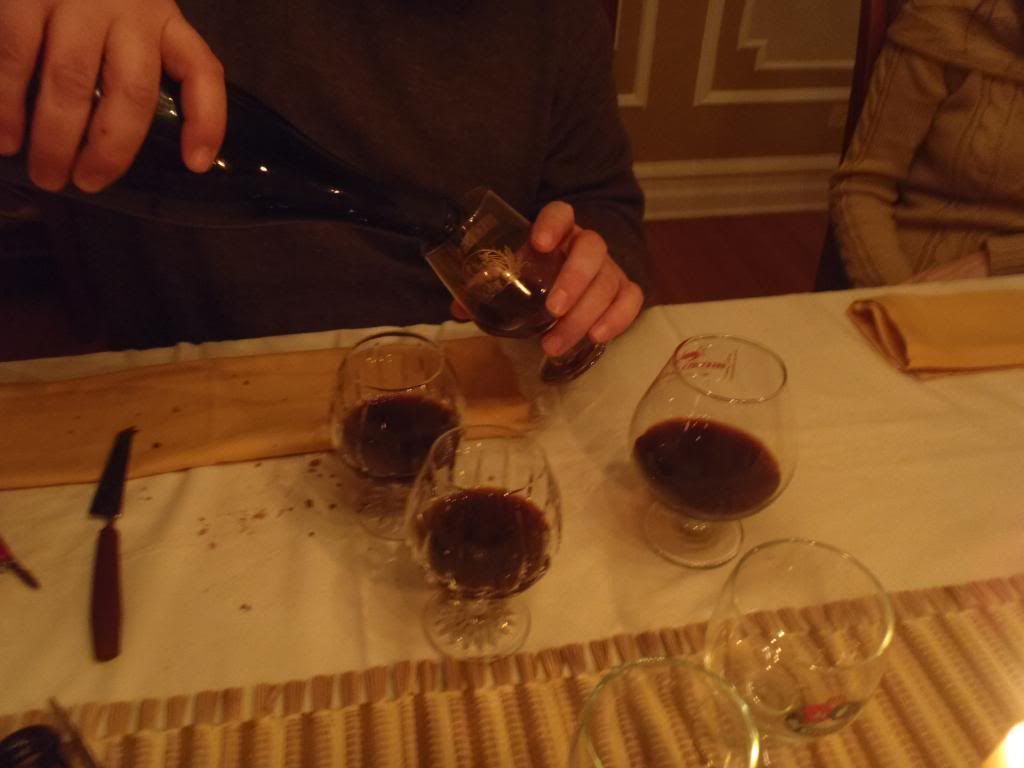 Amazing aroma's of leather, cedar wood , smokey dark fruit , raisins and slight musk. I took nearly 10 minutes simply smelling and enjoying the various aromas that where set off as I swirled the glass, this was history in a bottle !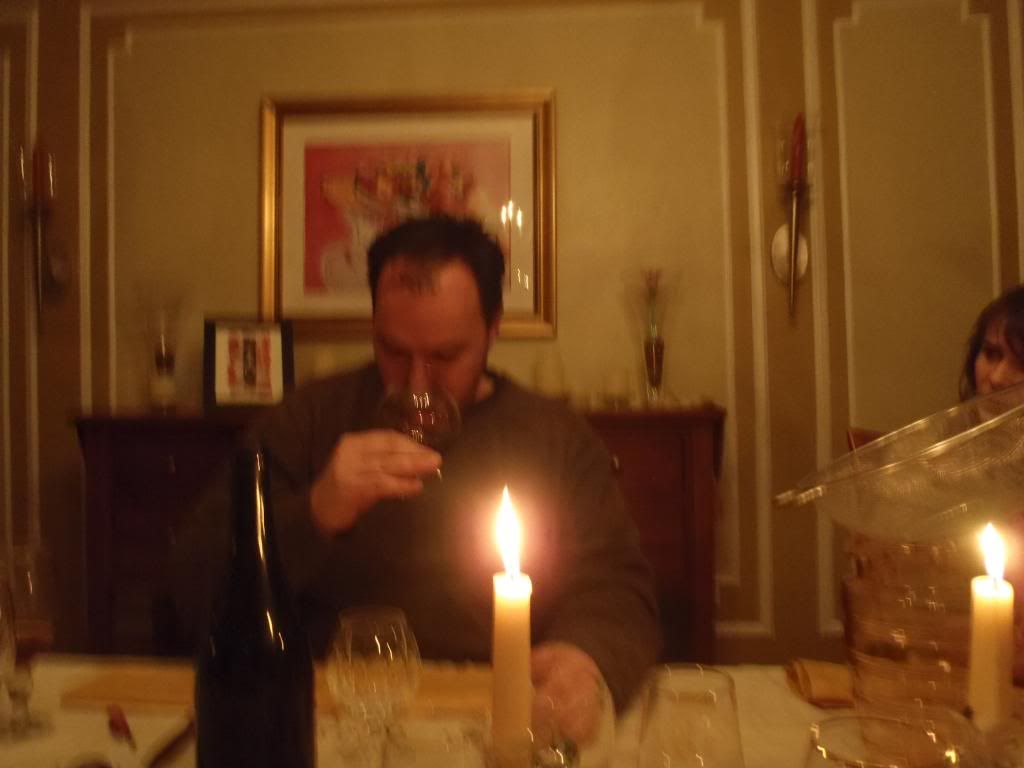 A proper cheers and the light of candles made the experience delightful !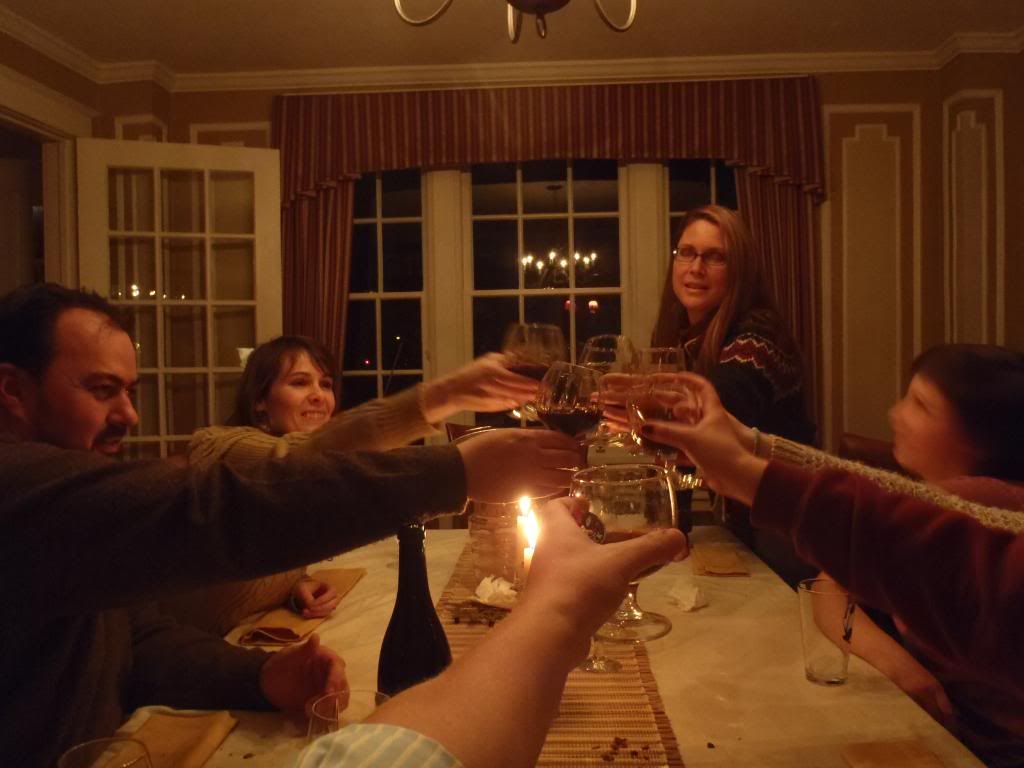 1875 Arctic Ale - Samuel Allsopp's and Sons
Type/Style: - English Strong Ale/Barleywine /Burton Ale
Bottle : 750 ML , natural cork, full fill , no label
Aroma;
Leather, cedar wood ( wet) , dark fruit, raisins, musk, Sherry, almost no hop aromas
Appearance :
Clear, but not brilliant, deep Mahogany Brown with ruby highlights and hues on the glasses edge...
Flavor:
Strong malt and sherry flavors, fully and across the whole tongue, finishes smooth without any unpleasantness or sourness. Licorice and maybe even old taffy.
Mouthfeel :
Completely still , no detectable carbonation , not slick or creamy , simply like sherry or brandy , no cloying whatsoever despite it's high residual saccharine content an finishing gravity.
Overall Impression : An amazing experience of drinking a bit of history, this ale was extremely drinkable 137 years after bottling, other than the musty and oxidized nature ( which is typical) of such an old ale, this ranks up there with the best of them. I have had 15 year old ales that where in much worse shape, for this age, it was simply amazing to experience !