16
« on: June 18, 2010, 12:52:37 PM »
The mr. malty calc has a limit to the amount of growth that it will recommend with one starter, that happens to be 6 yeast packages worth. So if it would take over 6 of your 20% viable packages to ferment the batch (6*20=120 billion cells), it jumps up to a new minimum. This isn't particularly useful since most of us don't have two or more identical old yeast packages lying around.
The other limit the mr. malty calc places is a minimum starter size of 1L. This is the generally accepted minimum for significant new cell growth in a WL or Wyeast package.
For old smack packs or a small amount of slurry, doing a mult-step starter is what you want. It will ensure that you have a timely fermentation at each step to minimize the risk of other microbial infection, as well as reduce greatly the required amount of wort needed to get to your final cell count. The wort usage is reduced with a multi-step starter because there is a starter pitching rate that results in the maximum amount of growth, above which the growth rate declines. For example, if your starter pitch rate is 100 billion cells/L on a stir plate, there will be 130 billion new cells grown per liter of starter wort. If your pitch rate is 12.5 billion cells/L, the new growth will be only 57 billion cells/L. You can see a plot of the mr. malty stir plate tab, the x-axis is the starter pitching rate and the y-axis is the starter growth rate: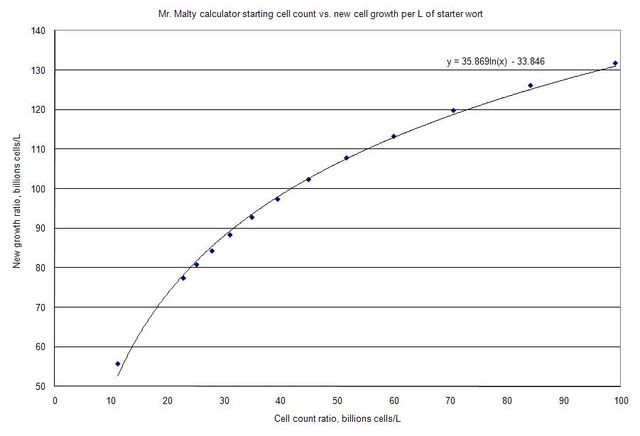 You should size each step to remain within the 100-12.5 billion cells/L pitching rate, to ensure timely fermentation and always have the minimum number of cells needed for adequate growth. The closer you stay to the high side of that pitching rate, the more efficient your wort usage will be, at least with a stir plate. You can use the formula on the chart in a spreadsheet to estimate the growth from each step size, and don't forget to add the starting cell count to get the total after each step. So for example if you have 20 billion cells and pitch at 100 billion cells/L, that's a 200 mL starter * 130 billion new cells/L = 26 billion + 20 billion (starting count) = 46 billion after step one. Keeping the same rate for step 2, 46 billion cells into a 460 mL starter * 130 billion new cells/L = 60 billion + 46 billion starting = 106 billion after step 2. You'll have to play with the starter sizes to keep the minimum pitch rate and not grow too many cells for what you need.
An alternate method for doing the math above is to have the calculator do it for you. Input your recipe parameters and yeast viability and adjust the volume down until it recommends only 1 yeast package in the starter (remember the smallest it will recommend is 1L, so this is not the most wort-efficient sized starter). The 'cells needed' result is the final cell count in this starter. Next input this number into the viability field and adjust the recipe volume again until you reach either the desired recipe volume or the next step size to keep to 1 yeast package in the starter. You can repeat until your final recipe volume is reached. As your viability exceeds 100%, you need to be cautious that your pitching rate does not exceed 100 billion cells/L (e.g. if the 'cells needed' in a previous step is 150 billion, make sure you make at least a 1.5L starter in the next step. You may need to adjust the intermediate starter sizes to make sure this is the case).