Link to article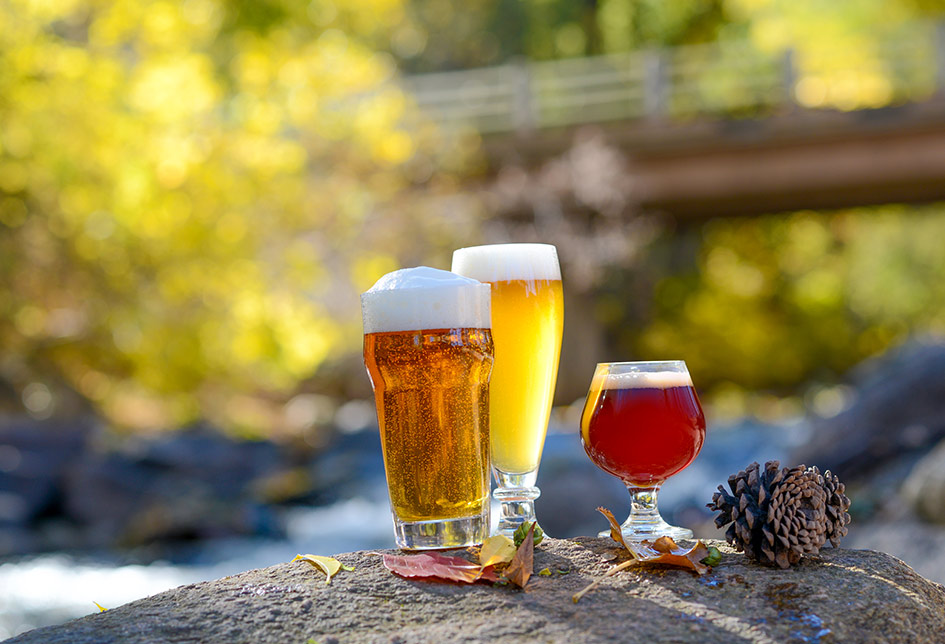 Craft brewing and homebrewing have long supported one another: a thriving craft beer community nurtures a healthy, growing homebrew culture, and vice-versa. Some cities are legendary for such pro-am symbiosis, while others are gaining well-deserved reputations as up-and-coming homebrew hot spots.
On your next beer vacation, by all means, visit San Diego, Portland, and Asheville. But you'd be missing out if you didn't check in to these seven red-hot homebrew destinations as well. Homebrewers love them, and you should, too.
---

Boise, Idaho
Boise is a growing city surrounded by plenty of room. "Some homebrewers may travel 30 to 40 miles to collaborate on a brew session," says Scott Allen, president of the Snake River Brewers homebrew club. "People are willing to help out other brewers all the time, even on short notice."
Boiseans see it all in four seasons: from subzero (colder than –18° C) in winter to more than 100° F (38° C) in the summer. Still, homebrewing here is a year-round hobby that draws inspiration from the local craft beer scene and Idaho-grown hops and malts. In the last five years, homebrewing has gained more and more acceptance as consumers have come to recognize that beer brewed at home can be superior to mass-produced commercial beer and can even rival that of many craft breweries.
But in the end, Allen says the main force behind the growing homebrew scene in this city of 215,000 is friendship. "The camaraderie of brewers is great, with people always wanting to get together to share beers, smiles, and laughter in this hobby of ours."
---

Minneapolis/Saint Paul, Minnesota
Minneapolis and Saint Paul have long been a hotbed of homebrew innovation. But as in other cities on our list, homebrewing has exploded in the Twin Cities in recent years, fueled in part by a new wave of craft breweries. The area is home to more than a dozen homebrew clubs, including the three-peat National Homebrew Competition (NHC) Homebrew Club of the Year winners the St. Paul Homebrewers Club (2007 to 2009) and the winners of the 2014 NHC Gambrinus Club Award, the Minnesota Home Brewers Association. Locals have also taken home the coveted Meadmaker of the Year prize in seven of the last eleven years!
Since Homebrew Con (the American Homebrewers Association's National Homebrewers Conference) was last held in Minnesota six years ago, legislative progress has enabled a boom in craft breweries, taprooms, and craft beer events. So expect lots of great homebrew, mead, cider, and professional beer when Homebrew Con returns to Minneapolis next summer, June 15–17, 2017!
---

Nashville, Tennessee
As in other hot spots, homebrewing in Music City developed closely with the microbrewing and craft beer community. The city's oldest and largest homebrew club, Music City Brewers, has incubated several generations of pro brewers since its founding in 1996. The club has actively participated in craft beer festivals for most of its 20 years, and at many of those festivals, it has drawn long lines thanks to the variety of high-quality beers being served.
Music City Brewers co-founder and treasurer Steve Johnson says homebrewers in Nashville bring a trailblazing spirit to the area. "While the craft brewing scene has been slow to bring in high-gravity beers due to restrictive legislation here in the Bible Belt, the homebrewers in the area have often taken the lead in brewing up a wide range of styles over the years," he says.
Nashville's presence as a regional crossroads has resulted in lots of new brewers coming into the hobby and community in the last few years, bringing their homebrewing experience from other parts of the country. Tennessee's homebrewers have embraced their geographic advantage and worked diligently with clubs throughout the region—in Southern cities like Memphis, Knoxville, Asheville, Birmingham, and Huntsville—to bring a strong, creative, and highly competitive homebrew culture to the Mid-South and the Southeastern United States.
---

Phoenix, Arizona
You know what they say: necessity is the mother of invention. So it goes for homebrewers in the Phoenix area. "When I moved to Arizona many years ago, it was largely a macro beer market," says Keith Mycek of the Arizona Society of Homebrewers (ASH). "If you wanted good beer, you often had to make it yourself–especially lagers and historic styles, which are still my favorite styles to brew today."
Of course, living in the desert has its own challenges, leading to many early-morning and late-night brew sessions to avoid summer temperatures that can easily exceed 115° F (46° C). Brewers without means of temperature control might shift their focus to cider- and meadmaking during the summer months to avoid dealing with fermentation woes all around.
Of its staggering 500-plus members, ASH says it is especially pleased with the increase in female homebrewers it has seen in recent years. In fact, five of the nine club board positions are held by women, all of whom homebrew and have received recognition at local, regional, and national levels.
---

Rochester, New York
When asked about the success of the homebrew community in the Rochester area, Upstate New York Homebrewers Association (UNYHA) president Keith McCullum gives much of the credit to the water. "We're lucky to have phenomenal water," McCullum says, "courtesy of Lake Ontario to the north and the Finger Lakes to our south."
UNYHA is one of the country's oldest homebrew clubs and has met regularly since 1979, with half a dozen shops in the area to offer supplies and support. The Rochester homebrew community includes a healthy mix of urban, suburban, and rural brewers, all battling a variety of conditions from limited brew space to sub-freezing temperatures. Overcoming such challenges means the area is full of creative problem solvers.
For UNYHA, growing the local homebrew scene means hosting an annual competition, social functions, and educational tasting events. And when it comes to brewing, bigger isn't necessarily better. McCullum says he finds more homebrewers getting creative with small batches, either brewing smaller volumes or splitting a single batch into multiple experiments to dial in desired flavors and freshness.
---

Tampa, Florida
A long history of beer and brewing in south Florida means homebrewing is nothing new to folks in the Tampa metro area. With a long list of homebrew clubs in the area (including in cities like Dunedin and Clearwater), the competitive scene boasts amazing homebrew, innovative homebrewers, and a tart tooth so strong a regional style has emerged: Florida weisse.
Heat and humidity make temperature control essential, but they also encourage homebrewers to explore such refreshingly heat-beating styles as tropical IPA, gose, and hefeweizen. And a number of clubs have found perfection through their exploration of sour ales and barrel-aged beers. Part of what makes the area friendly to a new generation of potential brewers is the increasing popularity of brew-on-premises businesses that help brewers learn about the hobby before going all in.
When asked what could make the homebrewing scene any better in Tampa, Gary Holmer of the Special Hoperations homebrew club suggested that being selected to judge a regional round of the National Homebrew Competition (NHC) would be a huge step forward. Well, get ready to take that step, Tampa—you're hosting an NHC first-round competition in 2017.
---

Windsor, California
It's not hard to see why homebrewing has grown over the last 10 years in wine-soaked Sonoma County. Homebrewer Christal Farias says beer is in their blood! "Homebrewing in our area has been taking place for many years," say Farias. "In fact, our now world-renowned wine country community was first established as a hop farming community long before our region become so densely populated by wineries."
Christal is not only part of the homebrew shop Beer Belly Fermentation Supply, but also a board member of Knights of the Tap Handle Brew Club, two organizations that mutually support each another. Homebrewers in the Windsor area are blessed geographically, too. The weather isn't just great for drinking beer and growing hops, but with ambient temperatures in the mid-60s to mid-70s Fahrenheit (upper teens to low 20s Celsius), fermentation temperature is fairly easy to control for any skill level of brewer.
And with breweries like Russian River, Lagunitas, and Bear Republic in their backyard, homebrewers in Windsor have no shortage of encouragement and solid advice.
* * *
Chip Walton is the producer and host of Chop & Brew and serves on the American Homebrewers Association Governing Committee.