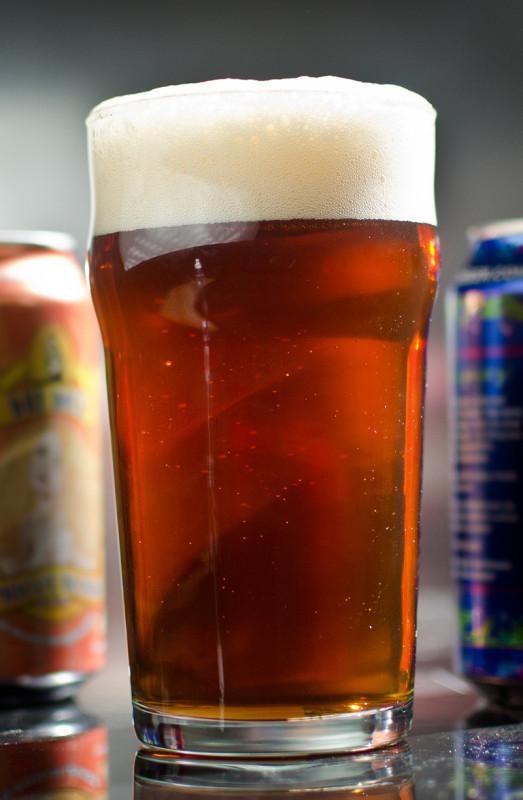 This recipe appears in the July/August 2017 issue of Zymurgy magazine in the article Small Batch,
Big Flavor, All Grain by Chris Colby.
Recipe courtesy Chris Colby
A copper-colored ale with a nice "Fuggly" hop aroma and malty flavor. I designed and refined this to be a flavorful but quaffable everyday beer. If you are hung up on beer styles, you can call it an altbier, although it's really built from the ground up based on the flavors and characteristics I wanted.
Ingredients
For 3 US gallons (11.4 L)
MALTS
4.5 lb. (2.04 kg) US 2-row pale malt
1.19 lb. (540 g) Munich malt (10° L)
2.4 oz. (68 g) aromatic malt
1.8 oz. (51 g) Victory malt
1.2 oz. (34 g) chocolate malt
0.67 oz. (19 g) black malt
HOPS
0.53 oz. (15 g) Northern Brewer, 9% a.a. @ 60 min (30 IBU)
0.2 oz. (6 g) Fuggle, 5% a.a. @ 15 min (3 IBU)
0.2 oz. (6 g) Fuggle @ 0 min
YEAST
White Labs WLP001 California Ale, Wyeast 1056 American Ale, or Fermentis Safale US-05 yeast (no yeast starter required)
WATER
Carbon-filtered tap water, carbonates around 100 ppm, calcium around 75 ppm
ADDITIONAL ITEMS
1/4 tsp. (1.2 mL) calcium chloride (optional)
3/5 tsp. (3 mL) Irish moss
3 oz. (85 g) corn sugar for priming to 2.6 volumes (5.2 g/L) of CO2
Specifications
Original Gravity: 1.051 (12.3° P)
Final Gravity: 1.010 (2.6° P)
ABV: 5.3%
IBU: 33
SRM: 15
Efficiency: 65%
Directions
Heat 8.8 qt. (8.3 L) of brewing liquor to 163° F (73° C) and mash grains in your brew pot at 152° F (67° C) for 60 minutes. Stir the mash a couple times and heat briefly to maintain temperature. Heat mash, while stirring, to mash-out temperature of 168° F (76° C). Scoop mash into 3 gal. (11.4 L) beverage cooler lined with a mesh steeping bag. Recirculate wort until almost clear, then run off. Sparge steadily over 45 minutes to collect 3.5–3.8 gal. (13.2–14.4 L) of wort. You will need around 8 qt. (7.6 L) of sparge water, heated to 170 °F (77° C) for this.
Bring wort to a boil. If hot break is not big and fluffy, add optional calcium chloride. Once the hot break forms, add bittering hops and vigorously boil wort for 60 minutes. Add remaining hops and Irish moss at times indicated to yield a post-boil volume around 3.25 gal. (12.3 L), topping up with boiling water if needed. Chill wort and rack to fermenter. Your yield should be about 3 gal. (11.4 L). Aerate wort thoroughly, pitch yeast, and ferment at 68° F (20° C). After fermentation stops, let beer settle for 2–3 days, then rack directly to keg or secondary fermenter. Carbonate to 2.6 volumes (5.2 g/L) of CO2.
Extract Version
Substitute 3.25 lb. (1.47 kg) pale malt extract syrup for pale malt. Mash remaining malts at 152° F (67° C) for 60 minutes. Drain, rinse grains with 170° F (77° C) reverse osmosis or distilled water. Dissolve extract completely in wort, then continue to sparge until desired boil volume is reached. Proceed as above.