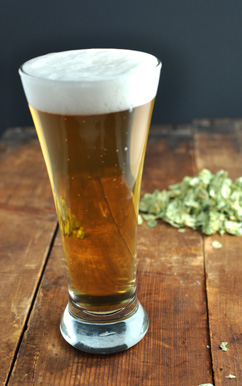 In honor of the 34th anniversary of homebrewing legalization, this weeks recipe comes from the classic book The Complete Joy of Homebrewing by Charlie Papazian. Reffered to by The Associated Press as, "The Homebrewer's Bible," The Complete Joy of Homebrewing contains instructions for new homebrewer's as well as the experienced, with recipes ranging from porters to Belgians. So celebrate the legalization of homebrewing by enjoying this Prosperous Pilsener Lager, and remember…"Relax. Don't worry. Have a homebrew!"
Ingredients
For 5 gallons (19 L)
5 lbs. (2.27 kg) | Plain light dried malt extract
1 lb. (.45 kg)|  Crystal malt
2.5 lbs. (1.13 kg) | light clover honey
2.5 oz. (70.8 g) | Saaz hops (boiling):  10 HBU
1/2 oz. (14.17 g) | Tettnanger hops (flavor)
1/2 oz. (14.17 g) | Saaz hops (finishing)
1-2 pkgs.  lager yeast
3/4 c. corn sugar or 1/4 c. dried malt extract for (bottling)
Specifications
Original Gravity: 1.048-1.052 (12-13 °P)
Final Gravity: 1.007-1.010 (2-2.5 °P)
ABV: 5.4-5.5%
IBU: n/a
SRM: n/a
Boil Time: n/a
Efficiency: n/a
Pre-boil Volume: n/a
Pre-boil Gravity: n/a
Directions
Add the cracked crystal malt to 1 1/2 gallons of cold water and bring to a boil.
When boiling has commenced remove the grains with a strainer.
Add the malt extract, honey and boiling hops and boil for 45 minutes.
Add the Tettnanger hops 10 minutes before the end of the boil.
Add the Saaz during the final 1-2 minutes of the boil. Sparge immediately and add the hot wort to the fermentor and cold water.
Add yeast when cool and bottle when fermentation is complete.
Propensity Pilsener can be matured for 3-4 weeks in the bottle at room temperatures and longer at cool temperatures. Drink and appreciate when you are ready!