Updated: 9/1995
Status: Permitted
Statute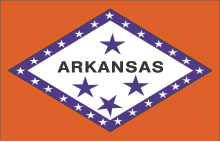 Arkansas statute § 3-5-210 has been amended by Senate Bill 636. In addition, Arkansas statute § 3-5-205 has been amended. Subsection (f)(1) allows the home production of beer upon an individual's premises for consumption by his/her family and guests but not for sale, in quantities not to exceed two hundred gallons per year if there are two or more adults in such household or one hundred gallons if there is only one adult in such household.
Discussion
Arkansas has both Wet and Dry counties and municipalities. The state places great control on alcoholic beverages. The recent enactment of Senate Bill 636 on April 10, 1995 is a concise amendment to various Arkansas statutes allowing the home production of beer. The production of home brewed beer is subject to age, quantity, use, and alcoholic percentage constraints. The issue of possible taxation on such beer is not addressed by the recent statutory amendments.
Special Provisions
N/A
State Alcohol Beverage Control Agency
100 Main St., Suite 503
Little Rock, Arkansas 72201
Phone: 501.682.1105
Fax: 501.682.2221
Applicable Statutory Material
3-5-202 Definitions
(13) "Home brewed" means beer made from malted barley, wheat or cereal grains or any substitute therefore and having an alcoholic content not in excess of five percent (5%) by weight, brewed for consumption by the manufacturer and his or her family and guests but not for sale. Provided any manufacture of home brewed beer must have attained the age of twenty-one (21) years of age.
3-5-210. Sale or manufacture without state permit unlawful.
(a) Except as provided in subsection (b), any person who shall brew, manufacture, or sell any liquor as defined by this subchapter without first having secured a permit from the Director of the Alcoholic Beverage Control Division authorizing the brewing, manufacturing, or the sale of such liquor shall be deemed guilty of a misdemeanor and shall be punished as provided in § 3-5-203.
(b) Home manufactures of beer in quantities not to exceed two hundred (200) gallons per year shall be exempt as provided in 3-5-205(f)(2) and 3-5-207(b) from the permit requirements for the manufacture of beer and shall not be prosecuted for brewing or manufacturing beer without a permit.
3-5-409. Tax on manufacture and sale—Exception.
(c) However, any person in this state shall have the right to manufacture, free from the tax, from grapes, berries, or other fruits or vegetables grown in the State of Arkansas, native wine or light wine for consumption in their home by themselves and guests but not for sale, in quantities not to exceed two hundred gallons (200 gals.).
Note: The information presented here is to the best of our knowledge and should not be used as a substitute for legal advice specific to the laws of your state.