I built/remodeled this from a standard 22'x14′ shed, when I started , it had a bunch of old lawnmowers and some old rusty tools in it , after explaining to my wife this would be a good idea, she reluctantly OK'd the project.
I started July 2008, and finished May 2009 , it was a busy winter , but I did all the work solo.
Some of the features include :
2 sinks
4 refrigerators
Hot and Cold filtered Water supply
Heat- A/C
Cable TV, Internet
Mug Club ( 24 members )
4 Taps
I call this the " HammerSmith Brewery and Alehouse ", I am a big fan of british style beer …enjoy.
This is the PUB- (right side of the shed )

The Brewery , fermentation, and workspace (left side of the shed )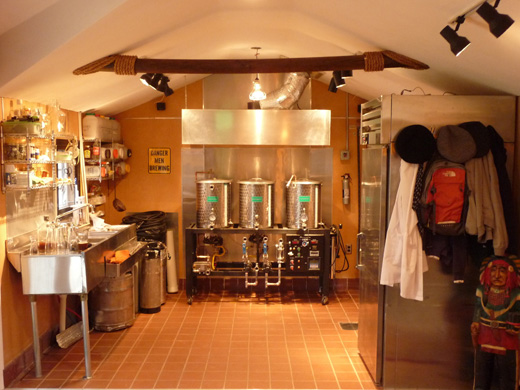 My brutus style system- The Savant System 1400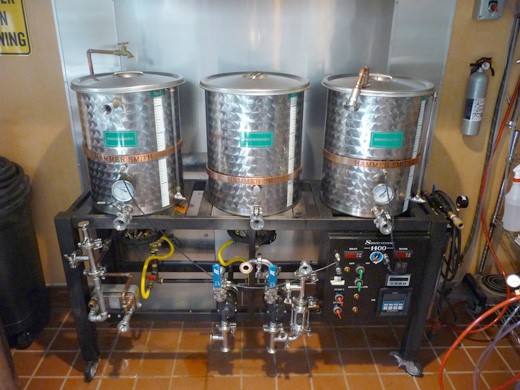 Like so many , I was inspired by the original "Brutus 10" single tier system. For weeks and months I collected parts, drew up designs, and saved extra money to create my own brewing machine. Although the inspiration to copy Lonnie's design was compelling, I wanted to put my own thoughts to work and create a system that was a bit different. A few years prior, I made a new years resolution "this year, I will learn how to weld." Learning a new skill every year is so much easier than going on a diet; it's now a yearly tradition.
The Savant Systems 1400 is a ten gallon H.E.R.M.S brewery. The control panel includes a digital pH meter, countdown timer, and cleaning mode. About 8 months ago I converted all the brass quick connects to tri-clover-style fittings, including a sight glass. While not needed to make great beer, I love the ease of connections and the feel of a professional style brewery on wheels.
Outside