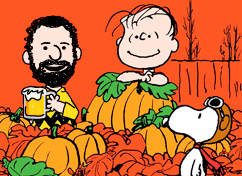 Pumpkin beers have been steadily moving up in the ranks of many beer enthusiast's favorite fall styles.  At the 2010 Great American Beer Festival, all three of the medal winners out of 28 entries in the Field Category were pumpkin beers.  Pumpkin beer festivals and brewery tapings dominate fall calendars across the country and homebrewers are taking matters in to their own hands and brewing their own versions of these festive seasonals.
Taking your kids to the pumpkin patch just got a lot more interesting, as you're now in the market for a pumpkin of your own!  According the recipe below, by Charlie Papazian, you're keeping your eye out for an averaged sized 7 – 10 pounder.
---
Cucurbito Pepo (Pumpkin) Ale
Pumpkin ale? Now, don't discount this one so quickly. Pumpkins were used in colonial days as an essential ingredient in many brews. With a bit of tradition and modern art you can brew something that is as American as apple pie. Cucurbito Pepo (Pumpkin) Ale is not too assuming.  With a medium body, adequate bitterness, amber color, alcoholic warmth and reassuring spices, this beer will be an incredible contribution to your repertoire of accomplishments.
The spices that lend a typical pumpkin-pie character are not overdone, but they are optional if you choose to brew a simpler version. This is the kind of brew for which you invite friends over to help with the ceremonies of brewing. Surely a Thanksgiving or holiday season toast with Cucurbito Pepo Ale will be one of the most memorable. England, Belgium and Germany, eat your hearts out.
Ingredients for 5 gallons (19 L)
10 lb (4.54 kg) American six-row pale lager malt
1 lb (0.45 kg) Crystal/Caramel malt (20-40 Lovibond)
7 – 10 lb (3.2 – 4.5 kg) whole pumpkin
2 oz (56.8 g) Williamette whole hops (at 75-90 minutes): 10 HBU
1/2 oz (14.2 g) Cascade whole hops (at 75-90 minutes): 2.5 HBU
1 oz (28.4 g) Mt. Hood hops (at 0 minutes) (aroma)
1 tsp (4.7 g) ground cinnamon
1 vanilla bean, chopped
1/2 tsp (2.3 g) freshly ground nutmeg
1/4 tsp (1.2 g) ground allspice
1/2 tsp (2.3 g) ground dried ginger
1/4 tsp (1.2 g) powdered Irish moss
2 packages of liquid ale yeast, or dry yeast, or an equivalent yeast starter
3.4 oz weight (96 g) corn sugar or 4.6 oz weight (130 g) dried malt extract for 2.25 volumes of CO2 (for bottling)
Beer Stats
IBUs: 45 – 50
Color: 6 – 12 SRM
OG: 1.066 – 1.070 (16.5 – 17.5 degrees Balling)
FG: 1.016 – 1.022 (4 – 5.5 degrees Balling)
Chill some homebrew the day before so that it's ready to enjoy on brew day.  While the beer is chilling, slice the pumpkin in half and remove seeds and stringy "veins." Roast the pumpkin in a 350-degree F (177° C) oven for about 1 hour or until soft. The roasted pulp will be used in the mash.
Use a protein-developing step mash. Add 3 gallons (11.4 L) of 130-degree F (54.4° C) water to the crushed malt. Stabilize at 122 degrees (50° C) and hold for 30 minutes. Then add 1.5 gallons (5.7 L) of boiling water and thoroughly mashed pumpkin pulp. Add heat if necessary and stabilize at 148° to 152 degrees F (64° – 67° C) and hold for 60 minutes. Add more heat and mash out to 165 degrees F (74° C).
Sparge with about 4 gallons (15.1 L) of 170 degree F (77° C) water. Initial extract volume may be about 7 to 8 gallons (26.5 – 30.3 L). Anticipate a long, vigorous boil and evaporation of 2 to 3 gallons (7.6 – 11.4 L).
Add boiling hops and boil for 75 to 90 minutes or until volume of boiling wort approaches 5.5 gallons (21 L). Then add cinnamon, nutmeg, allspice, ginger, vanilla and Irish moss and continue boiling 10 more minutes. Turn off heat. Add aroma hops and let steep for 2 to 3 minutes before straining hops and spices and chilling the wort.
Pitch the yeast when cool. Bottle when fermentation is complete.
---
Brewing Inside a Pumpkin
You could also take your brew day a step further and brew your pumpkin beer inside of an actual pumpkin. Check out this video with by step-by-step directions from Working Class Foodies.
Pairing Pumpkin Beers with Food
Really, the only rule of thumb is that they contain or provide pumpkin character. It is because of this ambiguity that the pumpkin ale's pairing capabilities rise exponentially. A good tip when pairing these beers with food is to identify the base beer, whether it be a Pale Ale or an Imperial Stout, then consider how the addition of pumpkin and or spices augment the beer's composition. Once the beer reveals these secrets, these rules provided on CraftBeer.com will easily apply.
What could make your brew day even better, snacks of course!  Roasted pumpkin seeds make the perfect salty snack to enjoy with your favorite beer. Here's a great article from Serious Eats with five delicious recipes to try.
Homebrewers Association
Homebrewers Association