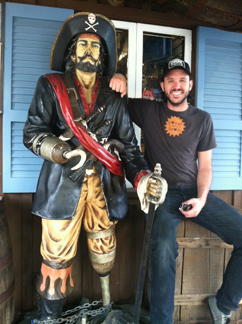 You might not think homebrew, bike mechanics and mythical beasts have anything in common, but to James Kunz, these three things are part of everyday life. Colorado native and Denver-based bike mechanic, Kunz recently earned the opportunity to brew his English-style oaked stout, The Kraken, after winning the annual Stout Month Homebrew Competition held at Southern Sun (affiliated with Mountain Sun) a Boulder, Colo. brewpub.
In true Colorado fashion, Kunz fills his days with homebrewing and Colorado craft beer when he is not training for his next cyclo-cross race. Funkwerks, Strange Brewing, and Dry Dock top his list of Rocky Mountain breweries, while Vine Street Pub, Mountain Sun's Denver location, is a go-to spot when he's craving something uber-local. It was during a visit to Vine Street that Kunz caught a glance of a flier for the annual Stout Month Homebrew Competition, a popular contest amongst Front Range homebrewers.
Porter or Stout?
Before learning of the Stout Month Homebrew Competition, Kunz had embarked on an experiment to discern the differences between stout and porter, two styles closely linked in history and characterization. Similar in grain bill and hop additions, he experienced firsthand the grey area that exists between the two dark brews. "Originally, I was trying to brew a porter," confesses Kunz, "but the recipe turned out more as a stout, which worked out well for the Mountain Sun competition."
On his modest setup, consisting of a boil kettle and cylindrical mash tun with false bottom, Kunz brewed six-gallons of his stout recipe with intentions of splitting it up into two different beers. One three-gallon batch was racked onto sour dregs and is currently still fermenting. The second half became what is now known as The Kraken because the addition of oak spirals soaked in Kraken rum during secondary fermentation. The Kraken was about two months old when it won Mountain Sun's Stout Month Homebrew Competition.
Scale It Up!
The competition is held at the end of December and Mountain Sun's Stout Month kicks off in February, so James and the Mountain Sun brewer, Jeff Ramirez, got right to brewing on Mountain Sun's six-barrel brew rig. "Jeff called me up in early January to talk about getting things going since Stout Month was right around the corner," said Kunz. "The first thing was to get the oak soaking in rum so the wood was ready for secondary."
Ramirez made minor adjustments to James' recipe to make it more suitable for the brew system and time frame. The base malt, maris otter, was increased to help efficiency, and a hop with higher alpha acid percentage was used to reduce the amount of hops needed. Furthermore, the mash and boil durations were increased slightly.
Come Jan. 5, 2013, James was dumping grains into the mash tun, running pumps and helping clean alongside Ramirez. In six short weeks, The Kraken underwent a "tight fermentation" and was ready to be served at Mountain Sun (Central Boulder), Southern Sun (South Boulder) and Vine Street (Denver) brewpubs.
Release The Kraken!
On Feb. 15, 2013, with much anticipation, The Kraken was released at all three Mountain Sun locations. "Considering the modifications to the recipe, I am impressed with how similar the homebrew is to the scaled up version," said Kunz. The Kraken is incredibly smooth and easy drinking, with hints of vanilla and spice from the Kraken rum-soaked oak spirals. A complete sellout at all locations in under four days can attest to the response patrons had to James' and Mountain Sun's collaborative brew.
The Kraken Recipe
James was kind enough to share the recipe for his Mountain Sun collaboration.
Ingredients for 5 U.S. gallons (18.9 L)
9 lb (4.08 kg) | Maris Otter
1.625 lb (0.74 kg) | Brown malt
10 oz (0.28 kg) | Chocolate malt
3 oz (85 g) | Fuggles, 5% AA (60 minutes)
Lallemand Nottingham Yeast
Specifications
Original Gravity: 1.061
Procedure
Mash grains for 60 minutes at 150°F (65.6°C). Boil for 60 minutes.
To prepare the oak spirals, soak in Kraken rum for 2-4 weeks and then add to secondary.
Bottle or keg with 2.5 volumes of CO2.
Homebrewers Association
Homebrewers Association