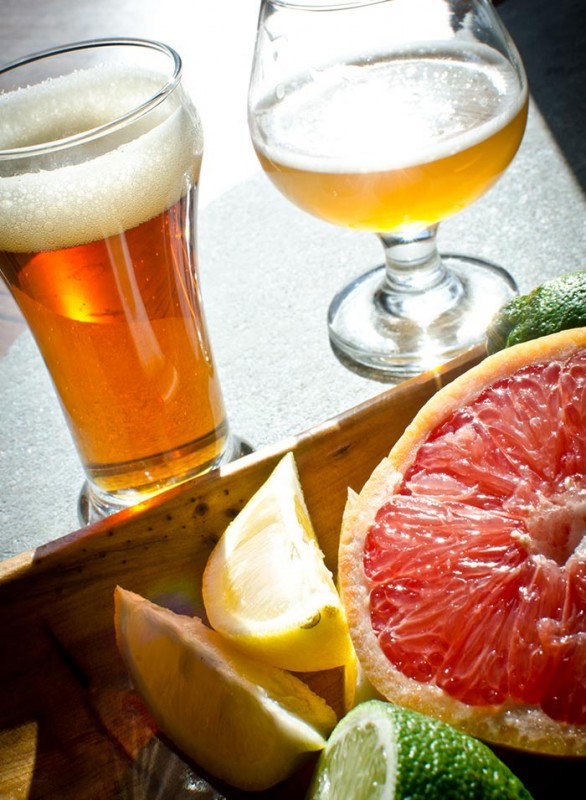 It's gardening season, and that means the literal fruits of your labor will soon be ripe for the picking. There can't be a better time to make a fruit beer than when you have homegrown fruit at the ready?
Fruit beers catch some flack for treading into mixed drink-like territory—and in some examples this might be true. But craft brewers and homebrewers are formulating fantastic beer recipes that showcase different fruits from around the world. These recipes balance the character of malt, yeast and hops with the nuances of carefully picked fruits that make fruit beer a creative style that should be explored.
Let's take a look at what qualifies something as a fruit beer.
Fruit Beer
The Beer Judge Certification Program (BJCP) recently updated the BJCP beer style guidelines, which included a more robust section for beers brewed with fruit, including subcategories for fruit beers made with spices and specialty fruit beers.
But despite the guideline changes, the core value of fruit beer remains the same: any beer style that includes the use of fruit. That's right—pick your favorite base style, add fruit that compliments (or is complemented by) the character of the selected style and that's it. Sky's the limit!
But it's important to note that the BJCP style guidelines rely on the culinary definition of fruit and not the botanical definition, meaning your famous tomato porter would not fall in the fruit beer category despite tomatoes technically being classified a fruit.
The 2015 BJCP beer style guidelines simplify the conundrum by saying, "Basically, if you have to justify a fruit using the word 'technically' as part of the description, then that's not what we mean [by fruit]."
The Subcategories of Fruit Beer
Let's take a look at Category 29: Fruit Beer subcategories. For the full details, see the 2015 BJCP Style Guidlines:
29A. Fruit Beer
The first subcategory of Category 29 is simply fruit beer. This is any beer style that also utilizes fruit. The key to subcategory 29A is creating a "harmonious marriage of fruit and beer" while still having a beverage that is recognizably beer. Balance is the name of the game, and creating a drinking experience that suggests the fruit's character rather than an artificial-like slap in the face will earn you high marks in your next BJCP competition.
29B. Fruit and Spice Beer
Subcategory 29B takes 29A to the next level by including spices. Again, the homebrewers goal needs to be showcasing the character of the fruits and spices being used, while still allowing the base beer style to come through. If the base style is overwhelmed by spice and fruit qualities, the malt and hops of the base style will be lost and could make for a drinking experience that is not very beer-like.
29C. Specialty Fruit Beer
Subcategory 29C is the defacto "everything else" style for fruit beers. However, the 2015 BJCP style guidelines specifically mentions the inclusion of additional fermentables, like honey or molasses, and different brewing procedures. But be careful when entering competitions. If the use of additional fermentables or brewing procedures doesn't create a noticeable effect on flavor or aroma, then entering the beer as a 29A. Fruit Beer would make more sense, leaving out mention of the sugars and procedures.
It's also worth pointing out that there are other instances where fruit may be used in a beer recipe, while not qualifying to be categorized as a fruit beer under the BJCP guidelines. For example, some Belgian styles like witbiers use the zest of oranges and other citrus fruits to add to the aroma, but this is within the guidelines for the Witbier category. Also, in situations where fruit is used along with other adjunct ingredients may qualify it as a category 34C. Experimental Beer.
Of course, if you aren't planning to enter the brew into competitions then feel free to call any beer recipe that showcases fruit a fruit beer!
Fruit Beer Commercial Examples
One of the best ways to get familiar with specific beer styles is to taste how the professional breweries approach them. Fruit Beer is a little trickier as any base style of beer is fair game to play host to fruit, but use this as an opportunity to explore different flavor combinations that might spark an idea for your next homebrewed fruit beer. Here are some commercially available fruit beers from across the country to get your palate thinking:
Grapefruit Sculpin | Ballast Point Brewing Co.
Aprihop | Dogfish Head Craft Brewed Ales
Cherry Stout | Bell's Brewery, Inc.
Lilikoi Kepolo | Avery Brewing Co.
Strawberry Blonde Ale | DESTIHL Brewery
Hell or High Watermelon | 21st Amendment Brewery
Also check out the HomebrewersAssociation.org homebrew recipe archive for a selection of fruit beer homebrew recipes.
Style of the Month
HomebrewersAssociation.org is starting a "Style of the Month" series! In the first week of each month, we will announce the style. Each following week of that month we'll include an additional piece of online content to further explore the selected style and help guide homebrewers in mastering the style.
Depending on the selected style, we'll look at topics including brewing techniques, tips from pros and renowned homebrewers, clone and homebrew recipes and more. This could make for great material to kick start a style-themed homebrew competition in your area or your next homebrew club meeting theme!
Stay tuned for next week when we'll explore how to incorporate fruit into a recipe and techniques to prepare ingredients for brew day.
Let us know what style you'd like to see featured next month in the comments below!
Homebrewers Association
Homebrewers Association