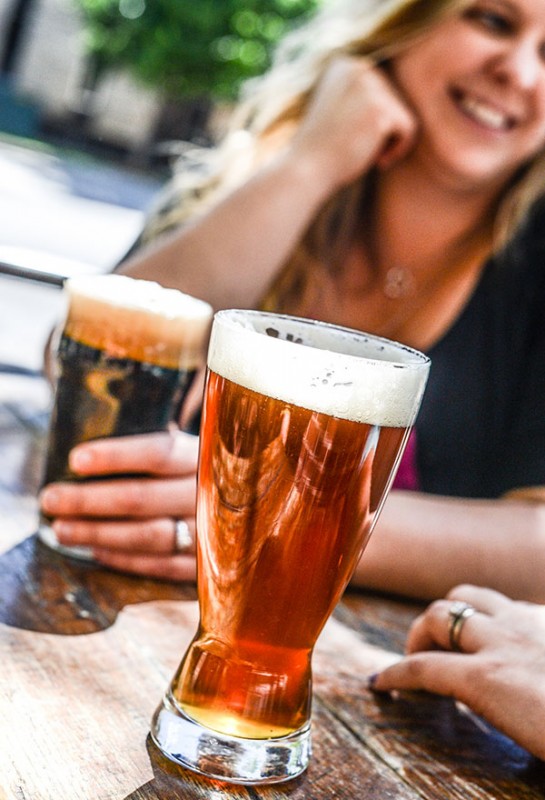 American Homebrewers Association (AHA) members enjoy discounts and special offers at over 1,800 breweries, tap rooms, pubs, restaurants, homebrew shops and more! Simply flash your AHA Member card or pull out your Brew Guru app and start saving!
Use the AHA Member Deals Locator  or your Brew Guru app to search the complete listings of offers and discounts. If you have a suggestion for an AHA Member deal, fill out this form and tell us!
Not an AHA member? Download the Brew Guru app and take AHA Member Deals for a free spin (no payment information required)!
AHA Member Deals in the USA (by state)
| | | |
| --- | --- | --- |
| Member Deal | City | State |
| |  Eagle River | AK |
| |  Salinas | CA |
| $1 Off Pints (not valid during happy hour) |  Monterey | CA |
| 10% Off Beer, Food, & merch for Card-Carrying Members (kegs not included) |  Healdsburg | CA |
| 10% Off Beer, Food, & merch for Card-Carrying Members (kegs not included) |  Rohnert Park | CA |
| $1 Off Pints, tulips & growlers |  Glendale | CA |
| |  Benicia | CA |
| |  Marysville | CA |
| |  Huntington Beach |  CA |
| |  Gilroy |  CA |
| |  Santa Clara |  CA |
| |  Palm Desert |  CA |
| |  El Segundo |  CA |
| |  San Diego |  CA |
| VIP Tour & 10% Off the Bill |  Oxnard |  CA |
| |  Manhattan Beach |  CA |
| |  Long Beach |  CA |
| |  Burbank |  CA |
| |  Venice |  CA |
| |  Huntington Beach |  CA |
| $1 Off Your First Full 10 oz. Pour |  Garden Valley |  CA |
| |  Suisun City |  CA |
| 10% Off Beer Sales and Growler Fills |  Ventura |  CA |
| |  Burbank |  CA |
| |  Longmont |  CO |
| |  Crestone |  CA |
| |  Denver |  CO |
| $1 Off Full Pours, Full Flights & Wine |  Wheatridge |  CO |
| |  Denver |  CO |
| |  Broomfield |  CO |
| |  Hockessin |  DE |
| |  Newark |  DE |
| |  Wilmington |  DE |
| |  Laurel |  DE |
| |  Millsboro |  DE |
|  $1 Off First Pint (16 oz) or flight (not valid with other discounts or special releases) |  Dunedin |  FL |
|  10% Off One Full Pour Draft  |  Honolulu |  HI |
| |  Normal | IL |
| |  Normal | IL |
| |  Champaign | IL |
| |  Darien |  IL |
| 15% Off Pints, Growlers, howlers and merchandise |  Channahon |  IL |
| |  Evanston |  IL |
| |  Tinley Park |  IL |
|  10% Off Food, Drink, & Merchandise |  Orland Park |  IL |
| Happy Hour Prices for Entire Party |  Wualkegan |  IL |
| |  Elkhart |  IN |
| |  Indianapolis |  IN |
| |  Jeffersonville |  IN |
| |  Wichita |  KS |
| |  Wichita |  KS |
| |  Newport |  KY |
| Free 4 oz. packet of hop pellets with 2L growler fill |  Worcester |  MA |
| |  Bangor |  ME |
| |  Ada |  MI |
| $1 Off Your First Pint (cannot be combined with other offers, happy hour) |  Manistee |  MI |
| |  Wayland |  MI |
| |  Muskegon |  MI |
|  $1 Off Your First Pint (excludes happy hour when pints are half off), $0.50 off crowlers, $1 off growlers to-go |  Saline |  MI |
|  $1 Off Your First Pint, 10% Off Merchandise (cannot be combined with other offers) |  Allendale |  MI |
| |  Coon Rapids |  MN |
|  10% Off Packaged beer to-go |  Kansas City |  MO |
| |  Kansas City |  MO |
| |  Raytown |  MO |
|  10% Off Craft Drafts and Bottles for AHA members |  Kansas City |  MO |
| |  Lee's Summit |  MO |
| |  Kansas City |  MO |
| |  Kansas City |  MO |
| 10% Off All Merchandise, $1 Off Full Pours of Rock & Run Beers  |  Liberty |  MO |
| |  Kansas City |  MO |
| |  Kansas City |  MO |
| |  West Plains |  MO |
| |  Hattiesburg |  MS |
| |  Charlotte |  NC |
| |  Greensboro |  NC |
| |  Concord |  NC |
| 10% Off Taproom Purchases |  Manchester |  NH |
| |  Newington |  NH |
| $1 Off Your First Pint, 10% Off Merchandise |  Albuquerque |  NM |
| $1 Off Pints for AHA members |  Rochester |  NY |
| 15% Off Beer-related purchases |  Saratoga |  NY |
| 10% Off the Bill (excluding alcohol), 10% Off Merchandise, Free Pint Glass with Purchase of Beer |  Bellefontaine |  OH |
| 10% Off Regularly Priced Purchases, to-go beer excluded |  Gresham |  OR |
| |  Oregon City |  OR |
| |  Oregon City |  OR |
| 10% Off Regularly Priced Purchases (to-go beer excluded) |  Gresham |  OR |
| $1 Off Beer; 25% Off Merchandise |  York |  PA |
| |  West Grove |  PA |
| |  Kennett Square |  PA |
| |  Jamestown |  RI |
| 15% Off an order of $25 for in-store merchandise |  Pawtucket |  RI |
| |  North Charleston |  SC |
| |  Knoxville |  TN |
|  20% Off Flights, $1 Off all logo merchandise |  Dripping Springs |  TX |
| |  San Marcos |  TX |
| |  Bandera |  TX |
| |  Bryan |  TX |
| Happy Hour Prices Anytime |  College Station |  TX |
| |  Austin |  TX |
| $0.50 Off Your First Cider |  Houston |  TX |
| One Free Beer with purchase of equal or lesser value. Limit one per person per visit. |  San Antonio |  TX |
| |  Keller |  TX |
| 5% Off In-store purchases (some restrictions apply) |  Austin |  TX |
|  Happy Hour Prices on your first pint, $1 off first small batch |  Houston |  TX |
| |  Front Royal |  VA |
|  5% Off 20L or 50L Brew Sessions & Free TCOB shirt with first 50L brew |  Ashburn |  VA |
|  $1 Off Your First House Beer |  Appleton |  WI |
| |  Hudson |  WI |
|  Happy Hour Prices Anytime |  Eau Claire |  WI |
| |  Onalaska |  WI |
| |  Green Bay |  WI |
| |  Onalaska |  WI |
|  10% Discount with code AHAMEMBER |  Online Deal | |
| 15% Off Your Entire Order with code HOMEBREW |  Online Deal | |
| Send us an eBay message with code 5544 to redeem 5% off purchases (some exclusions apply) |  Online Deal | |
| 30% off the Beer 101 course using code AHA30 |  Online Deal | |
International AHA Member Deals
| | | |
| --- | --- | --- |
| Member Deal | City, State/Province | Country |
| 20% Off Growlers, Crowlers, and Liters | Buenos Aires | Argentina |
| 20% Off First Beer in the Taproom, 10% Off Online Orders |  Marrickville, NSW | Australia |
| |  Okotoks, AB | Canada |
| |  St-tite, QC |  Canada |
| 10% Off Beer & Merchandise |  Uxbridge, ON | Canada |
| 15% Off Purchases in the Taproom |  Vancouver, BC | Canada |
|  10% Discount with code AHAMEMBER |  Online Deal | USA |
| 15% Off Your Entire Order with code HOMEBREW |  Online Deal | USA |
| Send us an eBay message with code 5544 to redeem 5% off purchases (some exclusions apply) |  Online Deal |  USA |
| 30% off the Beer 101 course using code AHA30 |  Online Deal |  USA |
Homebrewers Association
Homebrewers Association