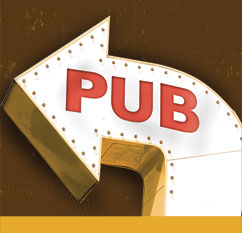 The American Homebrewers Association (AHA) is constantly adding new breweries, brewpubs and restaurants to the Pub Discount Program. Participants offer discounts to AHA members in recognition of the passion homebrewers have for beer and craft beer culture.
This proved especially true in 2011 with 133 new locations added to the Pub Discount Program. Now, AHA members can enjoy discounts at over 600 participating locations across the United States and Canada.
Discounts range from 10% off beer, food and merchandise to Happy Hour Pricing All Day. Some even offer a free gift! So grab a friend, a family member or bring the whole homebrew club by for a beer, and let them know you appreciate their support.
Check out the most current Pub Discount Program list and visit it each time you head out for a beer, take a trip or plan your next vacation. Great beers await you around every corner!
2011 Pub Discount Program Participants

| Alabama | | |
| --- | --- | --- |
| Back Forty Beer Company | Gadsden, AL | 15% Off Pints & Merchandise |
| | | |
| Arizona | | |
| Flanny's Bar & Grill | Tempe, AZ | 10% Off the Bill |
| Mother Road Brewing | Flagstaff, AZ | $3 Imperial Pints at the tasting room (excludes specialty beers) |
| SanTan Brewing Company | Chandler, AZ | $1 Off Pints. All Day Every Day |
| | | |
| Arkansas | | |
| The Flying Saucer | Little Rock, AR | 25% off food, $5 Off Flying Saucer Beer Festivals (Contact ahaintern@brewersassociation.org for discount code) |
| Diamond Bear Brewing Company | Little Rock, AR | $2 Off Tour of the Diamond Bear Brewery |
| | | |
| California | | |
| Peter B's Brewpub | Monterey, CA | 20% off Food & Beverage |
| Drake's Brewing Company | San Leandro, CA | 10% off Growler Fills & Merchandise |
| Mother Earth Brew Co., LLC | Vista, CA | 10% off all Purchases |
| Hess Brewing | San Diego, CA | $1 Off Tasting Flight Series |
| Tap It Brewing Company | San Luis Obispo, CA | (2 Discounts) $2 off Pint in Tasting Toom and 15% off Online Store usings discount code BA15SAVE |
| Cismontane Brewing Company | Rancho Santa Margarita, CA | $2 Off Growler Fills |
| Ballast Point Brewing | Sab Diego, CA | 10% Off Beer & Merchandise |
| Spike's Pub | San Luis Obispo, CA | Happy Hour All Day |
| Six Rivers Brewery | McKinleyville, CA | 10% off Merch, $2 off Beer Sampler |
| Downtown Johnny Brown's | San Diego, CA | 15% Off Entire Bill |
| Lagunitas Brewing Company | Petaluma, CA | 10% Off at the Tap Room |
| Ventura's Surf Brewery | Ventura, CA | 10% Off at the Tasting Room |
| Sea Rocket Bistro | San Diego, CA | 10% Food & Beverage |
| Ritual Tavern | San Diego, CA | 10% off Entire Bill |
| The Tipsy Crow | San Diego, CA | 15% off an AHA Member & 1 Guest's Liquor Tab (not combined with other offers) |
| Ladyface Ale Companie | Agoura Hills, CA | 10% off all Purchases (not including kegs and jewelry) |
| Karl Strauss | San Diego, CA | Happy Hour beer Prices all day |
| Karl Strauss | Carlsbad, CA | Happy Hour beer Prices all day |
| Karl Strauss | Costa Mesa, CA | Happy Hour beer Prices all day |
| Karl Strauss | La Jolla, CA | Happy Hour beer Prices all day |
| Karl Strauss | San Diego, CA | Happy Hour beer Prices all day |
| Karl Strauss | Universal City, CA | Happy Hour beer Prices all day |
| O'Shea Brewing Company | Laguna Niguel, CA | 10% Off |
| Handles Gastropub | Pleasanton, CA | 10% Off beer & food |
| | | |
| Colorado | | |
| Funkwerks | Fort Collins, CO | 10% off Beer |
| Grimm Bros Brewhouse | Loveland, CO | Buy One Get One Taster or Pint |
| Crazy Mountain Brewing Company | Edwards, CO | $2 off Beer & 15% off Apparel |
| Renegade Brewing Company | Denver, CO | 10% off Beer & Merchandise |
| Fort Collins Brewing | Fort Collins, CO | $1 Off Pints at Tasting Room, $2 Off Pints at Gravity Ten Twenty W/ Purchase of an Appetizer/Entrée |
| Backcountry Pizza & Taphouse | Boulder, CO | 15% Off Food, Beverages & Merchandise |
| Pateros Creek Brewing Company | Fort Collins, CO | $1 Off Pints |
| Del Norte Brewing Company | Denver, CO | $1 Off Pints |
| Wit's End Brewing | Denver, CO | 10% Off Beer & Merchandise |
| Pikes Peak Brewing | Monument, CO | 10% Off at the Tasting Room |
| Pourhouse Bar & Grill | Loveland, CO | Happy Hour Pint Prices and Half off Apps |
| Telluride Brewing Company | Telluride, CO | 10% Off All Purchases |
| Arvada Beer Company | Arvada, CO | $2 Off Growler Fills |
| Denver Beer Co. | Denver, CO | $1 Off Your First Beer |
| | | |
| Connecticut | | |
| Mikro Beer Bar | Hamden, CT | 10% off Entire Bill |
| | | |
| Deleware | | |
| Two Stones Pub | Newark, DE | 10% off Entire Bill |
| | | |
| Florida | | |
| Intuition Ale Works' | Jacksonville, FL | $3 off Growler Fills (Daily) & Happy Hour Prices on Wednesdays |
| Cigar City Brewing | Tampa, FL | 10% Off Draft Beer & Merchandise |
| World Of Beer- Westchase | Tampa, FL | 25% Off Drafts |
| Datz | Tampa, FL | 10% Off Beer |
| The Ale and The Witch | St. Petersburg, FL | 10% Off Beer, Food & Merchandise |
| Brewers Pizza | Orange Park, FL | $1 off Brewers Pizza Beers and Glassware |
| Gainesville House of Beer | Gainesville , FL | 10% Off |
| Lou's Beer Garden | Miami Beach, FL | 10% Off Beer & Food for AHA Member. $2 Off Growler Fills. VIP Status for special events. |
| | | |
| Hawaii | | |
| Big Island Brewhaus & Taqeruia | Kamuela (Waimea) Big Island, HI | 10% Off Food, Drinks & Merchandise |
| | | |
| Iowa | | |
| Millstream Brewing | Amana, IA | 10% Off Beer & Soda |
| Broad Street Brewing Company | Reinbeck, IA | 10% Off Beer, Snacks & Soda |
| | | |
| Idaho | | |
| Brewforia Beer Market | Meridian, ID | 15% off Beer & Merchandise |
| Bi-Plane Brewing Company | Post Falls, ID | $1 Off Pints, $2 Off Growler Fills |
| | | |
| Illinois | | |
| Haymarket Pub & Brewery | Chicago, IL | 20% off Food |
| Hamburger Mary's Brew & Grille | Chicago, IL | 10% Off Food |
| Half Acre Beer Company | Chicago, IL | 10% off Half Acre Beer Co. Beer & Merchandise |
| | | |
| Indianapolis | | |
| Sun King Brewing Co | Indianapolis, IN | 15% Off Merchandise |
| People's Brewing Company | Lafayette, IN | Free Sample Flight |
| Four Horseman Brewing | South Bend, IN | Free Pint Glass |
| Great Crescent Brewery | Aurora, IN | 10% Off Merchandise |
| | | |
| Kansas | | |
| Tallgrass Brewing Company | Manhattan, KS | 15% Off Merchandise |
| | | |
| Maryland | | |
| Barley and Hops | Frederick, MD | 15% Off Food, Beverage & Merchandise (No To-GO) |
| Baying Hound Aleworks | Rockville, MD | Half off Drafts on Saturday, $1 Off Bottled Beer |
| | | |
| Maine | | |
| Sea Dog Brewing Company | Topsham, ME | 50% off an Appetizer |
| Sea Dog Brewing Company | Bangor, ME | 50% off an Appetizer |
| Sea Dog Brewing Company | South Portland, ME | 50% off an Appetizer |
| Federal Jack's Restaurant | Kennebunk, ME | 50% off an Appetizer |
| Shipyard Brewpub | Eliot, ME | 50% off an Appetizer |
| The Inn on Peaks Island | Peaks Island, ME | 50% off an Appetizer |
| Allagash Brewing | Portland, ME | 20% Off Retial Merchadise (Exlcuding Beer) |
| Gritty McDuffs | Portland, ME | 10% Off the Bill |
| Gritty McDuffs | Freeport, ME | 10% Off the Bill |
| Gritty McDuffs | Auburn, ME | 10% Off the Bill |
| | | |
| Michigan | | |
| Redwood Brewing Company | Flint, MI | Happy Hour Pricing |
| Short's Brewing Company | Bellaire, MI | $1 Off Your First Beer |
| | | |
| Minnesota | | |
| Fitger's Brewhouse | Duluth, MN | $2 Off Growler Purchases |
| Summit Brewing Co. | St. Paul, MN | 10% Off Merchandise |
| Fulton Beer Co | Minneapolis, MN | 10% Off Beer (Pints or Growlers) At All Times |
| | | |
| Missouri | | |
| Public House Brewing Company | Rolla, MO | 10% Off at the Brewpub |
| Urban Chestnut Brewing Company | St. Louis, MO | 10% Off Beer |
| McCoy's Public House | Kansas City, MO | $1 off all regular-priced McCoy's Hand-Crafted Ales & Lagers |
| Perennial Artisan Ales | St. Louis, MO | 20% Off Perennial Beers |
| The Flying Saucer | Kansas City, MO | 25% off food, $5 Off Flying Saucer Beer Festivals (Contact ahaintern@brewersassociation.org for discount code) |
| Weston Brewing Company & O'Malley's Pub | Weston, MO | Free Sample Tray of Weston Beers |
| Ferguson Brewing Company | Saint Louis, MO | Happy Hour Pints At All Times |
| | | |
| North Carolina | | |
| Fullsteam Brewery | Durham, NC | 50% off Glassware (Limit of Four) |
| The Flying Saucer | Raleigh, NC | 25% off food, $5 Off Flying Saucer Beer Festivals (Contact ahaintern@brewersassociation.org for discount code) |
| The Flying Saucer | Charlotte, NC | 25% off food, $5 Off Flying Saucer Beer Festivals (Contact ahaintern@brewersassociation.org for discount code) |
| Olde Mecklenburg Brewery | Charlotte, NC | 10% Off Food & Merhcandise, 1 Free Pint Glass w/ Purchase of 1 Large Growler or 2 Small Growler |
| | | |
| New Jersey | | |
| Cape May Brewing Company | Rio Grande, NJ | $2 Off Glassware at the tasting room |
| | | |
| New Mexico | | |
| Nexus Brewery, LLC | Albuquerque, NM | $1 Off Any Glass of Beer |
| | | |
| Ohio | | |
| Chardon BrewWorks | Chardon, OH | $1.50 Off Pints & Growler Fills at all times |
| | | |
| Oregon | | |
| Widmer Gasthaus | Portland, OR | $1.00 off Pints |
| Breakside Brewery | Portland, OR | Happy Hour All Day ( Member Plue One Guest) |
| Oakshire Brewing Company | Eugene, OR | $3 Off Growler Fills at the Tasting Room |
| Full Sail Brewing Company | Hood River, OR | Tour the brewery and receive a free pint glass. |
| Ninkasi Brewing Company | Eugene, OR | .25¢ Off All Beers & Tasting Trays and 10% off Ninkasi Brewing Merchandise |
| | | |
| Pennsylvania | | |
| Boxcar Brewing Co | West Chester, PA | $5 Off Case Prices |
| JoBoy's Brewpub | Manheim, PA | 10% Off Food |
| Saint Boniface | Ephrata, PA | $2 Off Growler Fills |
| North Country Brewing | Slippery Rock, PA | 10% Off Beer, Food & Merchandise |
| Lavery Brewing Co. | Erie, PA | 10% off Growler Fills |
| | | |
| South Carolina | | |
| Westbrook Brewing | Mount Pleasant, SC | 10% Off Growler Fills |
| The Flying Saucer | Columbia, SC | 25% off food, $5 Off Flying Saucer Beer Festivals (Contact ahaintern@brewersassociation.org for discount code) |
| | | |
| South Dakota | | |
| Crow Peak Brewing Co. | Spearfish, SD | Happy Hour Anytime & 10% off merchandise |
| | | |
| Tennessee | | |
| The Flying Saucer | Memphis, TN | 25% off food, $5 Off Flying Saucer Beer Festivals (Contact ahaintern@brewersassociation.org for discount code) |
| The Flying Saucer | Cordova, TN | 25% off food, $5 Off Flying Saucer Beer Festivals (Contact ahaintern@brewersassociation.org for discount code) |
| The Flying Saucer | Nashville, TN | 25% off food, $5 Off Flying Saucer Beer Festivals (Contact ahaintern@brewersassociation.org for discount code) |
| | | |
| Texas | | |
| Double Horn Brewing | Marble Falls, TX | $1 Off of Double Horn Beers |
| Wicked Beaver Brewing Company | Wolfforth, TX | 20% Off Merchandise |
| The Flying Saucer | Austin, TX | 25% off food, $5 Off Flying Saucer Beer Festivals (Contact ahaintern@brewersassociation.org for discount code) |
| The Flying Saucer | Houston, TX | 25% off food, $5 Off Flying Saucer Beer Festivals (Contact ahaintern@brewersassociation.org for discount code) |
| The Flying Saucer | San Antonio, TX | 25% off food, $5 Off Flying Saucer Beer Festivals (Contact ahaintern@brewersassociation.org for discount code) |
| The Flying Saucer | Ft. Worth, TX | 25% off food, $5 Off Flying Saucer Beer Festivals (Contact ahaintern@brewersassociation.org for discount code) |
| The Flying Saucer | Addison, TX | 25% off food, $5 Off Flying Saucer Beer Festivals (Contact ahaintern@brewersassociation.org for discount code) |
| Flying Saucer on The Lake | Garland, TX | 25% off food, $5 Off Flying Saucer Beer Festivals (Contact ahaintern@brewersassociation.org for discount code) |
| Tap Exchange | San Antonio, TX | 20% Off Entire Bill |
| | | |
| Virginia | | |
| Mad Fox Brewing Company | Falls Church, VA | 10% off Food |
| Jack Brown's Beer & Burger Joint | Harrisonburg, VA | 10% Off Food |
| Corcoran Brewing Company | Waterfod, VA | Free Tastings & $2 Off Growler Fills |
| Capital Ale House | Harrisonburg, VA | 10% Off Food (dine in only) |
| | | |
| Wisconsin | | |
| Brady's Brewhouse | New Richmond, WI | $1 Off Pints and $2 Off Growlers |
| Stevens Point Brewery | Stevens Point, WI | Free Key Ring & 10% Off |
| Lakefront Brewery | Milwaukee, WI | 10% Off Merchandise |
| Hamburger Mary's Milwaukee | Milwaukee, WI | 10% Off Food |
| St. Francis Brewery & Restaurant | St. Francis, WI | $0.50 of all pints-craft beer & soda |
Homebrewers Association
Homebrewers Association