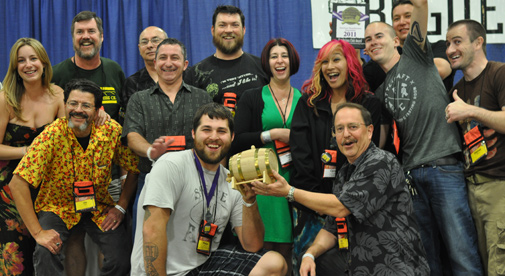 The who's who of the homebrewing community was on hand at the Town & Country Resort in San Diego, Calif. to celebrate the National Homebrew Competition winners at the Saturday night Grand Banquet, which concluded the National Homebrewers Conference.
View the 2011 Final Round winners list.
Download
the 2011 Final Round winners list.

In addition to the awards ceremony, the 1,400 attendees were treated to a delicious meal, courtesy of The Homebrew Chef Sean Paxton and Rogue Ales. The dinner featured the flavors of Southern California and Mexico, with a Chipotle Ale brined chicken covered in a Oaxacan Chocolate Stout mole made with TCHO Chocolate, served on a bed of savory rice pilaf infused with Dead Guy Ale. That's three beers in the main course alone! Paxton paired the entree with Rogue's Mocha Porter.
2011 National Homebrew Competition Overall Winners
Cidermaker of the Year:
Edward Walkowski
Dalton, PA
Scranton Area Amateur Zymologists (SAAZ)
Meadmaker of the Year:
Monique Scovil
Aurora, CO
Colorado Wine Club
Homebrewer of the Year:
Randy Scorby
Baker City, OR
Good Libations
Ninkasi Award Winner:
Paul Sangster
Carlsbad, CA
Quality Ale & Fermentation Society (QUAFF)
Gambrinus Club Award:
Southern Nevada Ale Fermenters Union (SNAFU)
Las Vegas, NV
Homebrew Club of the Year Award:
The Brewing Network
Pacheco, CA
Homebrewers Association
Homebrewers Association