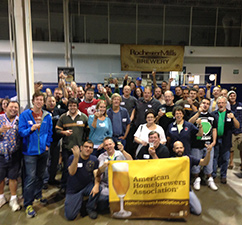 The American Homebrewers Association is pleased to announce the following confirmed dates for 2014 rallies:
More 2014 Rally dates will be announced as they are confirmed
About AHA Rallies
Over 1,700 homebrewers attended a Rally in their area in 2013. Rallies were held at 15 breweries all over the United States last year, with several areas holding their first Rally including Connecticut, Ohio, Georgia, Kentucky & Washington DC!
Rallies are held all over the country by Brewers Association members for the homebrewing community in their respective region. All rallies are AHA member-exclusive events. Any AHA member is allowed into the rally for free, and non-members can join at a discounted membership fee at the door. Additionally, attendees can upgrade their membership to bring household members for half-off.
During the rally, homebrewers are treated to VIP tours of the brewery, complimentary samples, a Q&A session, the opportunity to win prizes and other special events such as free give-aways, homebrew competitions and educational seminars. Local homebrew clubs and shops are attend rallies to recruit new members and customers, and to help grow the hobby of homebrewing in their area.
If you are a brewery owner and are interested in hosting an AHA Rally, please contact Matt Bolling, AHA Events & Membership Coordinator.
Homebrewers Association
Homebrewers Association