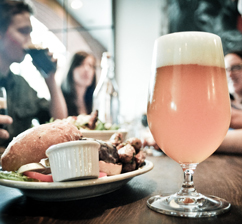 2012 was another strong year for AHA Member Deals, one of the most popular AHA member benefits. The program not only got a new name, but more than 200 new businesses—from brewpubs to homebrew supply shops—joined the national customer loyalty program.
Every year, new businesses sign up to recognize homebrewers' contribution to the culture of craft beer by becoming involved with AHA Member Deals. As a result, tens of thousands of homebrewers and their craft beer enthusiast friends and family visit participating AHA Member Deals locations.
The rebranding of AHA Member Deals (formerly Pub Discount Program) allows us to better incorporate new types of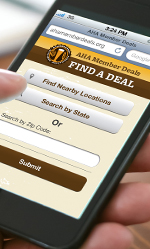 businesses beyond pubs into the program, such as homebrew retailers and shops that extend special offers to AHA members. The revamped program and website feature an online map and mobile-friendly website that makes it easier than ever to find nearby participants via mobile devices.
More importantly, the newly dubbed AHA Member Deals features an additional 206 participating locations over the last year. New offers range from 15 percent off beer, food and merchandise or all day happy hour, to a 10 percent discount on homebrew supplies.
To view the most current and up-to-date listings of all 775+ AHA Member Deals, bookmark AHAMemberDeals.org on your web browser and smartphone and visit it the next time you're headed out for a beer, shopping for homebrew supplies or planning your next trip.
A huge thank you to all of the newly participating businesses listed below. Your support of the American Homebrewers Association members and the homebrewing community is greatly appreciated!
* Offers are only for the card-carrying AHA member. AHA members must be 21 or older to receive discounts. Some states prohibit free or discounted alcohol. Participants must obey state law in this regard.
2012 New AHA Member Deals Participants
| | | |
| --- | --- | --- |
| Arizona | | |
| Dragoon Brewing Co. | Tucson, AZ | 15% Off Purchases |
| Draw 10 | Phoenix, AZ | 10% Off the Bill |
| The Phoenix Ale Brewery | Phoenix, AZ | 10% Off All Purchases (not to be combined with other offers) |
| Prescott Brewing Co. | Prescott, AZ | 10% Off Food (Dine-In) & Pub Retail Merchandise |
| | | |
| California | | |
| Anderson Valley Brewing Co. | Boonville, CA | Half Off Pints (Core & Seasonal Brands Only, no specialty/Mendonesia series) |
| Bear Republic | Healdsburg, CA | 15% Off Beer, Food & Merchandise for card carrying members |
| Big Sur Taphouse | Big Sur, CA | 20% Off Food, Beer & Merchandise |
| BJ's Restaurant & Brewery | Dublin, CA | 10% Off Food & Merchandise (Drive-in/In-store Only, not valid during Happy Hour) & $2 Off Admission to BJ's Beer Events (except where prohibited) |
| The Brewhouse | Santa Barbara, CA | Happy Hour Beers at All Times and 10% Off Food |
| Coronado Brewing Co. | Coronado, CA | 10% Off the Bill |
| Darryls Couch | Camarillo, CA | 10% Off Purchases |
| Dust Bowl Brewing Co. | Turlock, CA | $1 Off House Beers, $2 Off Growltwoer Fills |
| Eagle Rock Brewery | Los Angeles, CA | 10% Off Purchases |
| Eel River Brewing Co. | Fortuna, CA | 10% Off the Entire Bill |
| Enegren Brewing Company | Moorpark, CA | $1 Off Growler Fills |
| Firkin and Fox | Modesto, CA | $1 Off Pints &$1.50 Off Talls |
| The Globe | Garden Grove | 25% Off Belgian Beer Flight Sampler- Four 4oz. Pours |
| Heretic Brewing | Pittsburg, CA | 20% Off Merchandise & $1 Off Pints |
| Karl Strauss Brewing Company – 4S Ranch | San Diego, CA | Happy Hour Beer Prices All Day |
| Kelsey Creek Brewing Co. | Kelseyville, CA | $1 Off A Growler Refill & 10% Off All Pints |
| Kinetic Brewing | Lancaster, CA | 10% Off Growler Fills & Merchandise |
| Latitude 33 Brewing | Vista, CA | 10% Off Merchandise, Growlers & Tasters |
| The Local Beer Bar | Eureka, CA | $1 Off Selected Drafts |
| Mad River Brewing | Blue Lake, CA | $1 Off Pints |
| New English Brewing Company | San Diego, CA | 10% Off Beer |
| Old School Restaurant | Redding, CA | 10% Off Food & Beverage |
| Port Brewing Co./Lost Abbey | San Marcos, CA | 15% Off (Includes regularly priced tastings, merchandise and bottle/growler purchases with the exception of limited specialty release items.) |
| Randy Jones All American Sports Grill | San Diego, CA | $1 Off Beers & 15% Off Food (Not valid with any other promotion, offer, special event or happy hour) |
| Redwood Curtain Brewing Co. | Arcata, CA | $1 Off A Sample Flight |
| Sierra Nevada Brewing Co. | Chico, CA | 2 Free Tasting Trays |
| Speakeasy Ales & Lagers | San Francisco, CA | 10% Off All Beers & Retail Items (Open 4-9pm Friday & Saturday) |
| Tony's Darts Away | Burbank, CA | 25% Off Your First Beer Per AHA Cardholder Per Day |
| Under Cover Ale Works | Blairsden-Graegle, CA | 20% Off All Purchases |
| Wolf Creek Brewery | Calabasas, CA | 10% Off Beverages & 15% Off Merchandise |
| Wolf Creek Brewery | Santa Clarita, CA | 10% Off Beverages & 15% Off Merchandise |
| Wolf Creek Brewery – Tasting Room | Valencia, CA | 10% Off Beverages & 15% Off Merchandise |
| | | |
| Colorado | | |
| Big Choice Brewing | Broomfield, CO | $1 Off Pints (Not Including Happy Hour) |
| Bonfire Brewing LLC | Eagle, CO | 15% Off Beer & Merchandise |
| Bootstrap Brewing | Niwot, CO | 50¢ Off on Pints |
| Caution Brewing Co. | Denver, CO | $1 Off Pints & 10% Off Merchandise |
| Cedar Creek Pub | Aurora, CO | Happy Hour Prices on Draught Beer – Anytime |
| City Star Brewing | Berthoud, CO | $1 Off All 12-16oz Beers (not applicable during happy hour) |
| Colorado Cider Company | Denver, CO | $1 Off One 12oz Pour Per Person Per Visit |
| Copper Kettle Brewing Co. | Denver, CO | $1 Off Pints |
| Craft Beer University | Denver, CO | 20% Off Classes |
| Crooked Stage Artisan Beer Project | Denver, CO | 10% Off Beer & Gear |
| Echo Brewing Co. | Frederick, CO | Happy Hour Prices Anytime |
| Elevation Beer Co. | Poncha Springs, CO | 10% Off All Beer & Merchandise |
| Ernie's Bar & Pizza | Denver, CO | 15% Off Purchases |
| Golden City Brewery | Golden, CO | Happy Hour Prices All Day! |
| Lone Tree Brewing Co. | Lone Tree, CO | 10% Off Pints & Growler Fills |
| Loveland Ale Works | Loveland, CO | 10% Off Beer, Growlers & Merchandise, $10 Credit for $10 or More on 10 Occasions |
| Mellow Mushroom – Centennial | Centennial, CO | Buy one beer and get one of equal or lesser value FREE |
| Mellow Mushroom – Denver | Denver, CO | Buy one beer and get one of equal or lesser value FREE |
| Right Coast Pizza | Wheat Ridge, CO | 15% Off Beer & Merchandise |
| River North Brewery | Denver, CO | 20% Off Draft Beer & 10% Off Merchandise |
| Tom's Brew Shop | Denver, CO | 5% Off Purchases |
| Trinity Brewing | Colorado Springs, CO | $5 Off Beer Fest Tickets |
| TRVE Brewing Co. | Denver, CO | 15% Off Merchandise |
| Very Nice Brewing | Nederland, CO | $1 Off Growlers, 50¢ Off Pints |
| | | |
| Connecticut | | |
| Two Roads Brewing Co. | Stratford, CT | 10% Off Merchandises & $1 Off Pints |
| | | |
| Florida | | |
| Brock's Homebrew Supply | Melbourne, FL | 5% Off Purchases, excludes manufacturers that prohibit discounting |
| Due South Brewing Co. | Boynton Beach, FL | Happy Hour Pricing Anytime |
| Time To Make Wine | Fort Myers, FL | 5% Off Purchases |
| | | |
| Georgia | | |
| Moondog Growlers | Marietta, GA | 10% Off (Beer Excluded) |
| Moondog Growlers (2nd Location) | Dunwoody, GA | 10% Of All Items (Excluding Beer) |
| Red Hare Brewing Co. | Marietta, GA | 10% Off Merchandise |
| Rick Tanner's Grille & Bar – Tanners Vickery | Cumming, GA | 10% Off Food, 22oz servings for the price of 16oz |
| | | |
| Hawaii | | |
| Koko Marina Pub | Honolulu, HI | 10% Off Any Beer or Food-Anytime. Not valid with any other offers. Dine-in Only. |
| Maui Brewing Co. | Lahaina, HI | Happy Hour Prices on Draught Beer & 10% Off Food |
| | | |
| Illinois | | |
| Brew & Grow – Bolingbrook | Bolingbrook, IL | 10% Off Purchases |
| Brew & Grow – Chicago | Chicago, IL | 10% Off Purchases |
| Brew & Grow – Crystal Lake | Crystal Lake, IL | 10% Off Purchases |
| Brew & Grow – Morgan | Chicago, IL | 10% Off Purchases |
| Brew & Grow – Rockford | Rockford, IL | 10% Off Purchases |
| Brewer & Grow – Roselle | Roselle, IL | 10% Off Purchases |
| Destihl | Normal, IL | 10% Off Merchandise |
| Destihl | Champaign, IL | 10% Off Merchandise |
| Grow Master's Urban Gardening & Homebrewing | Gurnee, IL | 10% Off with Grain Card Plus %5 Off AHA Membership |
| Mac's Home Brew | Quincy, IL | 10% Off Purchases |
| McGorray's Gold & Grille | Decatur, IL | 10% Off (Not Including Alcohol) |
| Onion Pub & Brewery | Lake Barrington, IL | 15% Off Food, Beverages & Merchandise |
| | | |
| Indiana | | |
| Quality Wine & Ale Supply | Elkhart, IN | 10% Off In Store Purchases |
| South Ben Brew Werks | South Bend, IN | 10% Off Purchases |
| | | |
| Iowa | | |
| Confluence Brewing Co. | Des Moines, IA | 50¢ Off on Regular Pints |
| Worth Brewing Co. | Northwood, IA | 25¢ Off Every Glass or Pint of Worth Brewing Co. Beers |
| | | |
| Kansas | | |
| High Noon Saloon & Brewery | Leavenworth, KS | 10% Off Food & Merchandise (Dine-In only, not valid during Happy Hour) |
| | | |
| Kentucky | | |
| Lore Brewing | Danville, KY | 10% Off Purchases |
| West Sixth Brewery | Lexington, KY | Receive a free pint glass when you visit |
| | | |
| Louisiana | | |
| The Bulldog – Baton Rouge | Baton Rouge, LA | 15% Off All Purchases |
| The Bulldog – Mid-City | New Orleans, LA | 15% Off All Purchases |
| The Bulldog – Uptown | New Orleans, LA | 15% Off All Purchases |
| Lager's International Ale House | Metairie, LA | 15% Off Purchases |
| | | |
| Massachusetts | | |
| DIY Brewing | Ludlow, MA | 5% Off Purchases |
| Strange Brew | Marlborough, MA | 5% Off Purchases or 10% Off Any Recipe in Any Issue of Zymurgy |
| | | |
| Maryland | | |
| Brewers Cask | Baltimore, MD | $1 Off Drafts, $1 Off Firkin for All Members |
| Clipper City Brewing/Heavy Seas Beer | Halethorpe, MD | Free admittance to public tours- includes Heavy Seas glass, beer samples and tour of facility |
| Maryland Homebrew | Columbia, MD | 10% Off Purchases |
| | | |
| Michigan | | |
| 8 Degrees Plato Beer Co. | Ferndale, MI | 10% Off A Mix Six Pack |
| Atwater | Detroit, MI | $1 Off Pints, $2 Off A New Growler With Fill |
| Bell's General Store | Kalamazoo, MI | 10% Off Homebrew Supplies |
| | | |
| Minnesota | | |
| Midwest Supplies | St. Louis Park, MN | 10% Off Purchases |
| Stout's Pub & Grill | Falcon Heights, MN | 10% Off Food & Beverage |
| Vine Park Brewing Co. | St. Paul, MN | $1 Off Growlers |
| | | |
| Mississippi | | |
| The Bulldog – Jackson | Jackson, MS | 15% Off All Purchases |
| Lazy Magnolia Brewing Co. | Kiln, MS | 10% Off All Merchandise (in-store only) or Brewery Tours |
| | | |
| Missouri | | |
| Piney River Brewing Co. | Bucyrus, MO | 10% Off Draft Pints |
| | | |
| Nebraska | | |
| Lucky Bucket Brewing | La Vista, NE | $1 Off Regular Beer Prices |
| | | |
| Nevada | | |
| Mellow Fellow Gastropub | Incline Village, NV | Happy Hour Prices All Day |
| U Bottle It, LLC | Henderson, NV | 10% Off Purchases, Excludes Manufacturers that Prohibit Discounting |
| Wholefoods Market Reno – Tap Room | Reno, NV | Happy Hour All Day – Monday through Friday |
| | | |
| New Hampshire | | |
| Kettle To Keg | Suncook, NH | 15% Off Any Recipe Published in the Current Issue of Zymurgy |
| Redhook Portsmouth Brewery & Chataqua Public House | Portsmouth, NH | 10% Off Any Beer or Food-Anytime. Not Valid with any other offers or discounts. Dine-in Only. |
| Smuttynose Brewing Co. | Portsmouth, NH | 20% Off All Purchases |
| | | |
| New Jersey | | |
| Keg & Barrel Homebrew Supply | Berlin, NJ | Free Wyeast Smack Pack with Purchase of $60 or More |
| Morris Tap & Grill | Randolph, NJ | 10% Off Food, $1 Off Pints & 50% Off Growler Refills on Wednesday |
| Three Wise Monks | Garfield, NJ | 10% Off Entire Bill |
| | | |
| New Mexico | | |
| Blue Corn Café – Downtown | Santa Fe, NM | Happy Hour Pint Prices |
| Blue Corn Brewery – Southside | Santa Fe, NM | Happy Hour Pint Prices |
| The Grain Hopper | Rio Rancho, NM | 10% Off Purchases |
| Marble Brewery | Albuquerque, NM | $1 Off Pints |
| Marble Brewery | Santa Fe, NM | $1 Off Pints |
| | | |
| New York | | |
| Bitters & Esters | Brooklyn, NY | 5% Off Supplies & Equipment |
| Blue Point Brewing | Patchogue, NY | 10% Off Merchandise & Cases, $2 Off Jug Fills, $5 Off Kegs |
| Brick House Brewery | Patchogue, NY | 20% Off Food, $2 Off Growlers, Waived Door Cover to Nightly Events |
| Community Beer Works | Buffalo, NY | $1 Off 64oz. Growler Fills |
| Council Rock Brewery | Cooperstown, NY | $1 Off a Pint & $1 Off an Entrée |
| Good Nature Brewing Co. | Hamilton, NY | $1 Off Growler Fills, 10% Off Merchandise |
| Great South Bay Brewery | Bay Shore, NY | $2 Off Growlers |
| Party Creations | Red Hook, NY | 10% Off Purchases |
| Rogue Harbor Inn | Lansing, NY | 10% Off Purchases |
| | | |
| North Carolina | | |
| Duck-Rabbit Craft Brewery | Farmville, NC | Free Duck-Rabbit Bottle Opener with Purchase of a T-Shirt or two 6-packs of Duck-Rabbit Beer |
| Heinzelmannchen Brewery Inc. | Sylva, NC | 10% Off Merchandise |
| NoDa Brewing Company | Charlotte, NC | 10% Off Merchandise, Free Pint Glass with Growler Purchase & Fill |
| | | |
| Ohio | | |
| Buckeye Beer Engine | Lakewood, OH | 10% Off Any Regularly Priced Food and/or Retail Item |
| Great Lakes Brewing Co. | Cleveland, OH | 10% Off Food (HH Excluded) |
| Moerlein Lager House | Cincinnati, OH | Free Hogshead Union Mug Club |
| Sterles Country House | Cleveland, OH | 10% Off Draft Beer (Excluding Happy Hour). Use of Banquet Room for AHA Events (mutually agreed upon date, time, etc.) |
| | | |
| Oregon: | | |
| Brew Brothers | Hillsboro, OR | 5% Off Purchases |
| Columbia River Brewing | Portland, OR | 10% Off Food, Beverage & Merchandise |
| Falling Sky Brewing | Eugene, OR | 50¢ Off Pints & 10% Off Merchandise (not valid with happy or hour or any other offer) |
| Homebrew Exchange | Portland, OR | 10% Off Purchases |
| Raen Brew | Salem, OR | $0.75 Off Pints |
| Silver Moon Brewing | Bend, OR | $1 Off A Pint |
| | | |
| Pennsylvania | | |
| Dock Street Brewery | Philadelphia, PA | 10% Off Beer |
| Iron Hill Brewery & Restaurant | Philadelphia, PA | 20% Off Food & Beverage for the card carrying AHA member. |
| Taproom by Spring House Brewing Co. | Lancaster, PA | 10% Off Member Drink, Food and Merchandise |
| Troegs Brewing Company | Hershey, PA | Free Tasting Tour (Must register via website) |
| Yards Brewing Co. | Philadelphia, PA | 15% off Food & Merchandise |
| Yorkholo Brewing | Mansfield, PA | 20% Off Food |
| | | |
| Puerto Rico | | |
| Taberna Boricua | San Juan, PR | 10% Off Beer, Food & Merchandise |
| | | |
| South Carolina | | |
| Thomas Creek Brewing | Greenville, SC | 15% Off Merchandise and 1 Free Pint Glass w/ Purchase of a 64-oz Growler + Fill |
| | | |
| Texas | | |
| Adelberts Brewery | Austin, TX | $2 Off Tours & $2 Off T-Shirt Purchases |
| Brigadoon Brewery & Brew School | Todd Mission, TX | 10% Off Merchandise |
| Hops & Grain Brewing | Austin, TX | $1 Off A Hops & Grain Pint Glass (Comes With 5 Free Samples) |
| Hop To It Homebrew | Johnson City, TX | 10% Off Ingredients, 5% Off Equipment |
| Flying Saucer-Sugar Land | Sugar Land, TX | Half Off Appetizers25% off food, $5 Off Flying Saucer Beer Festivals |
| Freetail Brewing Co. | San Antonio, TX | Half Off Appetizers |
| Humperdinks Restaurant & Brewery | Addison, TX | 15% Off Food |
| Humperdinks Restaurant & Brewery | Dallas, TX(HQ) | 15% Off Food |
| Humperdinks Restaurant & Brewery | Richardson, TX | 15% Off Food |
| Karbach Brewing Co. | Houston, TX | $1 Off Tours |
| No Label brewing | Katy, TX | 25% Off Merchandise |
| North By Northwest Restaurant and Brewery | Austin, TX | 10% Off Merchandise & Kegs |
| | | |
| Utah | | |
| Epic Brewing Company | Salt Lake City, UT | 20% Off Food & 15% Off Merchandise |
| Moab Brewery | Moab, UT | Free Appetizer with Purchase of Two Entrees |
| | | |
| Virginia | | |
| Blue Mountain Barrel House | Arlington, VA | 20% Off Merchandise |
| Blue Mountain Brewery | Afton, VA | 20% Off Merchandise |
| Devils Backbone Brewing Company- Basecamp Brewpub | Roseland, VA | 10% Off Food & Beverage (Non-Alcoholic) for AHA Member & Guest |
| Lost Rhino Brewing Company | Ashburn, VA | 10% Off Food & Merchandise |
| Popkin Tavern | Richmond, VA | 10% Off Purchases |
| Vintage 50 Restaurant & Brew Lounge | Leesburg, VA | 10% Off Food |
| | | |
| Wisconsin | | |
| Brew & Grow- Madison | Madison, WI | 10% Off Purchases |
| Brew & Grow-Waukesha | Waukesha, WI | 10% Off Purchases |
| Moosejaw Pizza & Dell's Brewing Co. | Wisconsin Dells, WI | 10% Off Entire Bill, including alcohol & merchandise |
| Sprecher Brewing Co. | Glendale, WI | 10% Off Growlers and Growler Fills of Sprecher Beer |
| The Bar @ 106seeboth | Milwaukee, WI | $3 taps, $4 house Wine & $2 off Pizza |
| | | |
| Online | | |
| Alpha Analytics | Online | 15% Off The Standard Package or $15 for the IBU Test, Must provide AHA number. Use code AHA15 |
| HopUnion via HopGear.com | Online | 20% Off HopVariety Handbook. Must Provide AHA number. Use Code AHA20 |
Homebrewers Association
Homebrewers Association