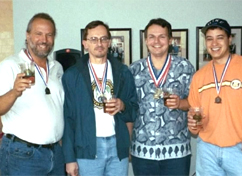 Created in 2002, the Upper Mississippi Mash-Out (UMMO) has grown into one of the largest homebrew contests in the country. The first year of the contest drew less than 200 entries but in recent years UMMO has seen nearly 1000 entries from coast to coast.
Founded by Al Boyce, Jeff Cotton, Steve Fletty, and Steve Piatz as a contest run by brewers for brewers, the original goal was twofold: to provide contest entrants with fast and useful feedback & to award brewing excellence. Since then, UMMO has expanded its mission to include fostering beer appreciation and education. Each year, UMMO picks a theme and brings in noted speakers or brewers to interact with contest attendees. The ninth annual UMMO will feature the beers and food of England and Scotland.
The 2010 Upper Mississippi Mashout is January 29th and 30th. Entries for the competition are currently being accepted until January 18th, 2010. Judged categories include: The EIS-ANYTHING Category & Best Traditional UK beer Category. Other events include the Saturday night Banquet, lunch seminars on both days and the Piss-up (a multi-faceted tasting event for volunteers of the UMMO).
For more information about the competition and seminars visit: www.mashout.org.
Homebrewers Association
Homebrewers Association