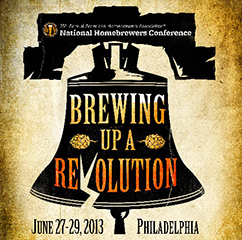 *Update* Please follow this link to go straight to the secure registration form!
Registration for the 2013 AHA National Homebrewers Conference opened Tuesday, February 5, at 1:00 pm MST/3:00 pm EST.
Conference registration is only open to American Homebrewers Association members. If you're not currently a member, join now. Each member may also register one guest for a conference package listed on the Registration Details page of AHAconference.org. Only online registrations are accepted.
To submit your registration, you'll need your nine-digit AHA member number and the email address associated with your HomebrewersAssociation.org profile.
You can find your member number on your AHA membership card, on your Zymurgy magazine mailing label or on your order receipt as the account # under the bill to address.
Homebrewers Unite!
The National Homebrewers Conference is a fun, educational gathering designed to enhance homebrewers' brewing skills and knowledge while increasing homebrewing camaraderie.
Pre-conference events, seminars and official conference gatherings cater to beer enthusiasts and amateur brewers of every level.
Conference Presentations and Audio Files
If you can't make this year's conference, fear not! The AHA will be posting presentations along with audio recordings of the seminars for AHA members to access.
The 2012 conference presentations and audio files are also available and limited to AHA member-only access. Log-in or join the American Homebrewers Association to catch up on last year's program.
Homebrewers Association
Homebrewers Association