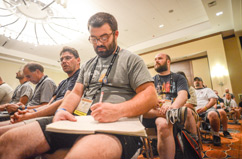 As of 2012, audio and visuals of all National Homebrewers Conference seminars are available exclusively to American Homebrewers Association members. We're excited to announce that the 2013 seminars are now available.
The 2013 National Homebrewers Conference in Philadelphia was the biggest yet, with 3,400 attendees. It also marked the most extensive offering of seminars, with a whopping 36 presentations. Seminar topics covered everything from yeast propagation to improving homebrew clubs. A full list of conference presentations is available on AHAconference.org.
To see what you're missing out on, non-members can access Mitch Steele's complete seminar from 2012. Join the American Homebrewers Association for access to all conference seminars and the many other AHA member benefits.
About National Homebrewers Conference
The National Homebrewers Conference is a fun, educational gathering designed to enhance homebrewers' brewing skills and knowledge and increase homebrewing camaraderie. Special seminars and events cater to beer enthusiasts and amateur brewers of every level. Find out more!
Homebrewers Association
Homebrewers Association