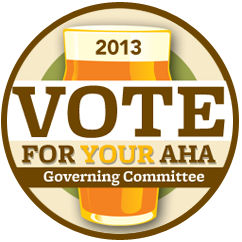 The American Homebrewers Association (AHA) 2013 Governing Committee Elections are now open to AHA members. The terms of current AHA Governing Committee members, Justin Crossley and Fred Bonjour, conclude in May of 2013, creating two open seats for this year's election. Both Crossley and Bonjour are up for re-election, along with Martin Brungard, Bruce Buerger, Steve Cook, Chris Hummert and Matt Johnson.
Further information regarding the election process, candidate statements and the ballot can be accessed in the AHA Governing Committee Election web area.
It is important for AHA members to take the time to review candidate statements and vote on who they would like to be elected for the two openings by 11:59 p.m. PT on March 31, 2013. If you are not a member, join the AHA today and cast your vote!
About the AHA Governing Committee
The American Homebrewers Association Governing Committee is an advisory committee to the AHA staff and Brewers Association Board of Directors. Elected by the members of the AHA, the Governing Committee is charged with shaping the policy and activities on behalf of the AHA. The AHA Governing Committee also appoints two Governing Committee members as designates to the Brewers Association Board of Directors.
Homebrewers Association
Homebrewers Association