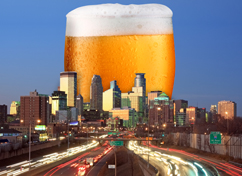 The local committee of this year's AHA National Homebrewers Conference in Minneapolis, MN has scheduled an amazing array of events for conference attendees who want to experience life outside of the hotel.
You can still register for 5 of the 7 events; but, you better hurry. The deadline for the 2010 Pre-Conference Activities is Thursday, May 29, 2010.
2010 Pre-Conference Activities*
Tuesday evening, June 15, 2010
BJCP Beer & Mead Exam – As part of the pre-conference activities we will be giving both the BJCP Mead Judge and the BJCP Beer Judge exams.
Wednesday morning, June 16, 2010
Brewer's Brunch – Brunch is served, at one of the Twin Cities' premiere restaurants/beer bars! Start your pre-conference day out right with a gourmet breakfast prepared by a master chef, paired with some of Minnesota's finest beers!
Wednesday afternoon, June 16, 2010
Minnesota Twins vs. Colorado Rockies – Board the bus for one of Minnesota's finest brew pubs for a pre-game round or two, then head out for Target Field, Minneapolis' brand new major league ball park to see the Minnesota Twins slug it out with the Colorado Rockies! Will Charlie P catch the first fly ball in Target Field?
Wednesday evening, June 16, 2010
Twin Cities Pub Crawl – Make the circuit of Twin Cities brewpubs with tour guides from the Twin Cities' homebrew club luminaries! Staggered buses leave starting at 6pm – buses leave on the half-hour from one club to the next. Stay as long as you wish before moving along!
Wednesday evening, June 16, 2010
Brewing Network & Northern Brewers Pre-Con Party – The Brewing Network's 5th Anniversary and Northern Brewer's 17th Anniversary Party.
* No refunds unless tour is cancelled. Must be 21 or older. Bring valid photo ID.
Homebrewers Association
Homebrewers Association