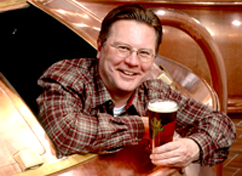 If you haven't checked out the line-up of speakers for the 2010 AHA National Homebrewers Conference, now is the time! This year's Keynote Speaker is Mark Stutrud of Summit Brewing. Mark founded Summit in 1984 and the beer world soon took notice. Summit's Great Northern Porter won first place at the 1987 Great American Beer Festival. With Summit Extra Pale Ale as their flagship brand, Summit has continued to producing clean, consistent examples of classic styles. In 1998, Summit opened a modern 120,000-barrel plant in St. Paul- the first brewery to be built in Minnesota in 75 years.
Other speakers already on the roster are: James Altwies, Gary Awdey, Mike Bardallis, John Blichmann, Justin Crossley, Ray Daniels, Steve Fletty, Rick Garvin, Tom Hennessy, Kyle Jones, Kelly Kuehl, Antony Hayes, Jennifer Helber, Annette May, Steve Parkes, Steve Piatz, Ken Schramm, Randy Scorby, Mark Tanner, Kai Troester, and Joseph Wegner.
For more information about each of these knowledgeable brewers and new speaker additions, please visit the entire speaker line-up at www.AHAConfernce.org .
Homebrewers Association
Homebrewers Association