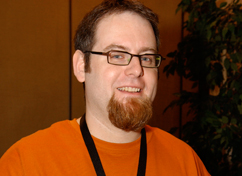 Congratulations to Tom Schimidlin, winner of the 2010 AHA Conference Survey Contest.
Tom's name was pulled at random from nearly 350 respondents to the 2010 AHA Conference Survey. Tom won a copy of New Brewing Lager Beer, by Greg Noonan, an AHA pint glass and an AHA Make Your Own t-shirt.
Tom Schmidlin is a biochemistry PhD student at the University of Washington. His interest in brewing and yeast has shaped his current career and will likely be a major part of any future endeavors. In 2006, Tom was named Beer Drinker of the Year by Wynkoop Brewing Co. He has been brewing since 1990 and lives near Seattle.
AHA Conference attendees were surveyed after this summer's conference. Surveys like this supply valuable information for planning future AHA Conferences. Be sure to keep an eye on HomebrewersAssociation.org for an opportunity to complete future surveys.
Cheers, Tom!
Homebrewers Association
Homebrewers Association