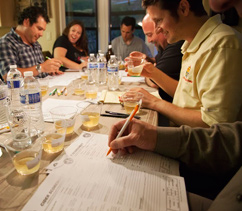 In April, the American Homebrewers Association announced the formation of the Research & Education Fund (REF), a new program geared towards subsidizing homebrew-related research projects conducted by AHA members for AHA members. Not long after the announcement, many great proposals concerning beer, mead and cider began rolling in.
"Cider Yeast Comparison" is the first REF-funded research project to be completed. Stan Sisson of QUAFF homebrew club collaborated with seven San Diego-area homebrewers to make the same cider, but with seven different types of White Labs yeast. The idea was to explore yeast strains intended for beer that may be more favorable than the usual cider-specific yeast types.
When the ciders were ready, they were evaluated by a team of BJCP judges, and served at the White Labs tasting room in San Diego for a public vote. The results are interesting to say the least!
This report was also a focal point of Christian Banker's "Cider Revolution: How to Brew Great Cider from Everyday Ingredients" presentation given at the 2013 National Homebrewers Conference in Philadelphia.
AHA members can access a downloadable version of Stan's "Cider Yeast Comparison" report*, as well as the audio and visual presentations from Christian's AHA conference seminar. Not a member? Join today to access these and other great member benefits!
If you are interested in submitting a research proposal to the REF, visit Research & Education Fund for details on the process.
*The "Completed Research" page containing REF reports for download is locked for AHA members only.
Photo © Larry Stein
Homebrewers Association
Homebrewers Association