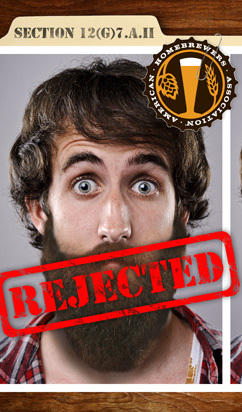 Effective immediately, the American Homebrewers Association® (AHA) is introducing a new policy that it hopes will help elevate the image of homebrewing and, more generally, craft beer. All AHA members are now required to be clean shaven—any beards, moustaches, goatees, fu manchus, soul patches and even some excessively long sideburns will not be allowed.
AHA director Gary Glass explained the reasoning behind this significant policy change: "It's really time for homebrewers to start cleaning up their act. We want our members to present the hobby in a way that is wholesome and non-threatening. Just think of all the deviant historical figures known to have facial hair, like Attila the Hun, Ivan the Terrible, Rasputin… the list is huge! Now I know this will be difficult. Heck, I've had a goatee for years, but I'm willing to sacrifice it for the greater good of homebrewing."
To facilitate the new policy, the AHA will be transitioning to photo ID member cards during the month of April. All members will be required to submit a notarized, date-stamped headshot, using the same dimensions as a standard U.S. passport photo. Additionally, AHA clubs have agreed to perform random beard checks at meetings, socials and competitions to ensure that the rule is enforced consistently. AHA members found in violation of the policy will have their membership suspended until they are in compliance. Repeat offenders may be subject to more severe sanctions.
Complete language for American Homebrewers Association Bylaws
Section 12(G)7.a.ii
Requirements for membership in the Association:
Annual dues paid to the Association.
Absence of any facial hair longer than .0625 U.S. inches, or 1.59 millimeters. Sideburns may not exceed 2 U.S. inches (50.8 mm) in length.
Section 17(C)3.c.i
Members not in good standing with the Association
Members found to be in violation of bylaw 12(G)7.a.ii will have their Association membership suspended immediately. Second-time offenders shall be barred from membership for one (1) year, and those found in violation more than twice shall be permanently barred from Association membership.
Please consult the entire policy statement for details on enforcement and downloadable stubble measurement tools.

…April Fools! No brewers' beards were harmed in the making of this article.
Homebrewers Association
Homebrewers Association