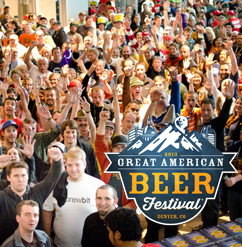 It's that time of year again—Great American Beer Festival (GABF) season. So, brush off your hop-hat, string up those pretzel necklaces and get ready for another weekend of the finest beer American breweries and brewpubs have to offer.
There is no question that there are more thirsty homebrewers and craft beer enthusiasts than GABF tickets, with the 2012 festival selling out in a matter of minutes, so we want to give you some tips on how to increase your chances of getting 2013 GABF tickets.
As an American Homebrewers Association member, you are eligible to participate in the GABF member pre-sale on July 30, 2013 at 10:00 a.m. MDT. If you are a current member, ensure your membership will still be active at the time of the pre-sale. If your membership expires before July 30 or you are not currently a member, join the American Homebrewers Association by midnight MDT on July 26, 2013 for member pre-sale eligibility.
Please note: joining the American Homebrewers Association does not guarantee tickets. Membership only grants eligibility for the pre-sale.
Here are some other tips to take into consideration when trying to secure 2013 GABF tickets:
Register with Ticketmaster prior to the pre-sale to speed up the checkout process.
Ensure you have access to the Internet at the time the sale opens.
Review the frequently asked questions on GreatAmericanBeerFestival.com for the ins-and-outs of GABF ticket sales. There is a lot of helpful information in there, and we strongly encourage everyone take the time to familiarize yourself with the ticket sales process.
Any tickets remaining from the member pre-sale will go on sale to the general public on July 31, 2013 at 10:00 a.m. MDT.
Good luck to everyone!
Homebrewers Association
Homebrewers Association