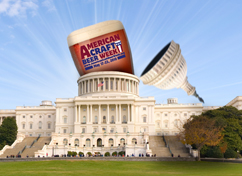 During the week of May 17th-23rd tens of thousands of craft beer enthusiasts hoisted a pint in honor of American Craft Beer Week. The week was celebrated by hundreds of craft brewers, beer retailers; thousands of beer fans; even Congress got into the act by approving a Resolution that supported the "goals and ideals of American Craft Beer Week." With the whole summer, Memorial Day, Fourth of July, and a myriad of other opportunities to share a craft beer, or two, with friends it's obvious that craft beer season is in full swing.
Support of American Craft Beer Week
Final Official Numbers for 2010 as collected by AmericanCraftBeerWeek.org
Official Brewery Locations – 341
Official Events Posted – 621
"Likes" of ACBW on Facebook (ending May 23rd) – 22,115
Official States Registered – 45
American Craft Beer Wheat Recipe
The American Craft Beer Wheat recipe is based on the American wheat beer recipe found in the new Brewers Publications book Brewing with Wheat: The 'Wit' and 'Weizen' of World Wheat Beer Styles by Stan Hieronymus and was also used as one of the AHA Big Brew recipes for 2010. Brewing with Wheat is currently available at the American Homebrewers Association store.
Homebrewers Association
Homebrewers Association