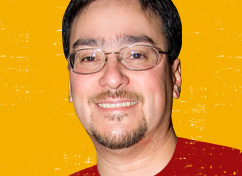 March, 2013 Update:
The Ask the Experts section has moved to the AHA Forum and is now available to AHA members and non-members. Please see the new Ask the Experts forum board for all past and upcoming Ask the Expert sessions.
---
American Homebrewers Association (AHA) members have exclusive access to some of the most knowledgeable experts on beer and brewing for their brewing questions. This week, it's John Palmer.
All AHA members who register on HomebrewersAssociation.org and link their membership to their registration can access the posted questions and responses from our guest experts right here.
John Palmer
John Palmer is the author of How to Brew and the co-author of Brewing Classic Styles with his good friend Jamil Zainasheff. Together they co-host the popular brewing podcast, Brewstrong. John is a regular on the international homebrewing competition circuit, having been invited to speak and judge at conferences and competitions in such diverse locations as Australia, Argentina, North Dakota, and Kansas, and Orlando. John has been brewing for nearly 20 years, and has frequently underwhelmed his compadres in the Crown of the Valley Brewing Society with his brewing frequency and colorful witticisms to "brew as I say, not as I do."
John is a metallurgical engineer by trade and has particularly applied himself to understanding the processes of brewing from an engineering point of view, including malting, mashing, water chemistry, lautering, clarity, color, and foam retention. In 2007, John was deeply honored with an AHA Governing Committee Recognition Award for Outstanding Service.
Homebrewers Association
Homebrewers Association