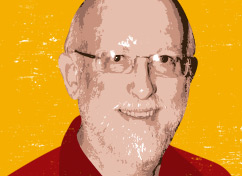 March, 2013 Update:
The Ask the Experts section has moved to the AHA Forum and is now available to AHA members and non-members. Please see the new Ask the Experts forum board for all past and upcoming Ask the Expert sessions.
---
Questions for Randy Mosher accepted now through December 5.
Randy Mosher is an author, lecturer and consultant on beer styles and brewing. He is an instructor for the Siebel Institute in Chicago and the author of three books on beer and brewing:The Brewers Companion (Alephenalia, 1991), Radical Brewing (Brewers Publications, 2004) and Tasting Beer, (Storey Publications, 2009).
Additionally, Mosher is a branding packaging and new product consultant for an international range of clients in the brewing and beverage business.
Submit Your Questions
AHA members can submit their questions to our expert each month by sending an email to asktheexperts@brewersassociation.org.
Answers will be posted on HomebrewersAssociation.org approximately two weeks after the submission deadline. Please use "Ask The Experts" in the subject line of your message when submitting questions.
Register and Link your AHA Membership
To access the questions and answers from Randy Mosher, AHA members need to register as a user on HomebrewersAssociation.org and link up your AHA member number. Then you'll have access to all the Members-Only content on this site.
Homebrewers Association
Homebrewers Association