March, 2013 Update:
The Ask the Experts section has moved to the AHA Forum and is now available to AHA members and non-members. Please see the new Ask the Experts forum board for all past and upcoming Ask the Expert sessions.
---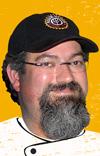 We know you like drinking beer! But if you have any questions about cooking with it, or pairing it with food Sean Paxton is accepting questions for our next round of Ask the Experts. Send Sean your Questions concerning Cooking with beer and pairing your beer with food. The answers will be available in a few weeks.
Click here to submit a Question!
Sean Z. Paxton is the Executive Chef and Owner of Homebrewchef.com, where he creates, cooks and serves multiple course menus highlighting beer as an essential ingredient. He writes for Beer Advocate Magazine, DRAFT Magazine and is a guest author for variety of other food and beer magazines. Sean hosts a monthly podcast "The Home Brewed Chef" on The Brewing Network and shares with listeners' philosophies, techniques and ideas for cooking and pairing with beer. His travels take him to breweries throughout the US and Europe where he utilizes his beer and flavor knowledge to collaborate with craft brewers to create beer recipes used typically for specialty events and releases.
---
Homebrewers Association
Homebrewers Association