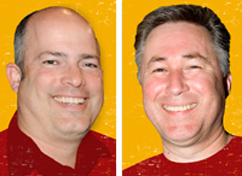 March, 2013 Update:
The Ask the Experts section has moved to the AHA Forum and is now available to AHA members and non-members. Please see the new Ask the Experts forum board for all past and upcoming Ask the Expert sessions.
---
American Homebrewers Association (AHA) members have exclusive access to some of the most knowledgeable experts on beer and brewing for their brewing questions. This week, it's Randy Mosher.
All AHA members who register on HomebrewersAssociation.org and link their membership to their registration can access the posted questions and responses from our guest experts right here.
Chris White
Chris White is President of White Labs and Co-Author of Yeast: The Practical Guide to Beer Fermentation .
Chris' interest in homebrewing came from undergraduate studies at UC Davis, when he signed up for Michael Lewis' brewing course. Chris then completed a Ph.D. thesis on yeast biochemistry at UC San Diego. He founded White Labs as a yeast and fermentation laboratory for brewers and homebrewers in 1995. He is active as President of White Labs, and enjoys growing the company worldwide and moving into new areas of fermentation such as distilled products and wine. Chris White is also a faculty member of Siebel Institute of Technology in Chicago. Chris is a member of the American Society for Brewing Chemists and the Master Brewers Association of America. He enjoys traveling, golf, talking beer, and barbeques with friends.
Jamil Zainasheff
Jamil Zainasheff is an award-winning homebrewer, beer judge, author, and host of "The Jamil Show" and "Brew Strong" shows on The Brewing Network. Jamil has brewed an award winning example of every style of beer described in the Beer Judge Certification Program (BJCP) Style Guidelines. He has co-authored two critically acclaimed brewing books, Brewing Classic Styles and Yeast: The Practical Guide to Beer Fermentation. Jamil's newest venture is Heretic Brewing Company, located in Pittsburg, California.
---
Homebrewers Association
Homebrewers Association