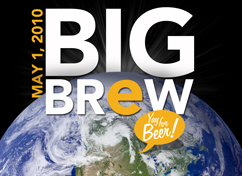 Registered Sites – Sumit your Information

Be sure to make note of the number of people attending, the number of batches brewed, the total gallons of beer produced, and any notes about your experiences that you'd like to share with us. Report your Big Brew results as soon as possible after your event is finished. That way, we can get an accurate count of how many participated and how many gallons of homebrew were made simultaneously around the world.
AHA Big Brew YouTube Contest
AHA Big Brew, a celebration of National Homebrew Day, was created to bring homebrewers together around the world, this year the AHA will again sponsor a video contest for the event. Please record a video of your AHA Big Brew site, showing what you're brewing, who you're brewing with and of course, all the fun you're having! The AHA will awarded two prize packages, one for the most watched video and one for the video that best captures the essence and teamwork of AHA Big Brew.
AHA Membership Offer
Celebrate this year's AHA Big Brew along with 20,000 other AHA members. Join or Renew with the American Homebrewers Association and recieve a free copy of Scotch Ale from Brewers Publications. Offer ends May 21, 2010.
About AHA Big Brew

In 1988, May 7th was announced before Congress as National Homebrew Day. The American Homebrewers Association created AHA Big Brew as an annual event to celebrate National Homebrew Day not only in the United States, but around the world. Big Brew is held each year on the first Saturday in May.
2010 Big Brew Recipes
American Craft Beer Wheat
Scottish Export 80 Shilling Ale
Rocktoberfest
All recipes for Big Brew on National Homebrew Day are available on the Homebrewopedia.
Share in the celebration of National Homebrew Day
You can share the joy of homebrewing on National Homebrew Day by registering your home, shop, brewery, or homebrew club as an AHA Big Brew Site. Spread the word about your site using the AHA Big Brew promo poster, flyer , and customizable press release.
Homebrewers Association
Homebrewers Association