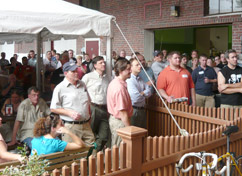 Date: Thursday, July 29, 2010
Time: 5-8pm
Rally Host: The Boston Beer Company
Address: 30 Germania Street Boston, MA 02130
Web: www.SamAdams.com

Space is Limited
This year, Boston Beer Company is reaching out to American Homebrewers Association (AHA) members for the 5th annual AHA Rally at their Germania St. brewery in Boston, MA.
Attendees will be treated to complimentary samples of Boston Beer Co. beers, including the recent winning beer from the Patriot Homebrew Contest. Guests will also receive complimentary food and a Samuel Adams Boston Lager® glass. Everyone at the AHA Rally has a chance to win free door prizes from the AHA, Boston Beer Co. and Beer and Wine Hobby.
American Homebrewers Association (AHA) Rallies are free to current AHA members.
Non-members can Join Now, or sign up at a discounted rate at the door. Fill-in and print this AHA Rally Member Form and take it with you to the event.
Learn more about AHA Membership Benefits & Zymurgy Magazine!
Homebrewers Association
Homebrewers Association