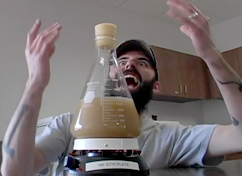 Brewing TV is a new weekly webshow about, by, and for homebrewers. Brewing TV is a voice for homebrewing culture. They are interested in a dialog about "why," not "how." Brewing TV strives to show what homebrewing has been, where it is going, and the many things it is to the people who enjoy it.
Brewing TV will travel all across America to tell the stories of stove-top brewers, homebrewers gone professional, competition wonks and BJCP Master judges and strictly-for-fun brewers. And every episode, look for us to roll up our sleeves and get our wort on during Time To Brew – extract brewing, all-grain brewing, and everything in between.
Episode #1 premieres May 7, 2010 on www.brewingtv.com. Be sure to check it out and post your comments below.
Homebrewers Association
Homebrewers Association