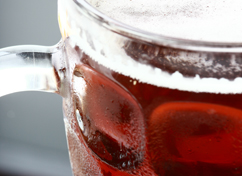 AHA Club-Only Competitions (COC) offer AHA-registered homebrew clubs an opportunity to host and/or compete with other AHA-registered homebrew clubs in a one-style competition. Each club may send only one entry to this competition and typically these competitions receive anywhere from 40 to 70 entries. Currently, there are over 1000 AHA-registered clubs world-wide.
Each competition concentrates attention on a specific style of beer or mead, giving your club the opportunity to educate club members in these styles by focusing on them at club meetings or tasting events. AHA homebrew clubs also organize and judge the AHA COC. This gives your club a chance to learn more about homebrew competitions, beer evaluation, and judging procedures.
This month the Club-Only Competition is called "Battle of the Bitters" and it is focused on English Pale Ales. The entry deadline is this Friday, January 28, 2011. Judging is Saturday, February 5, 2011. The entry fee is $7 (make the check out to American Homebrewers Association, or AHA). Remember, it is currently illegal to send competition entries through the U.S. Postal Service.
Entry Shipping:
The Good Brewer
Attn: "Battle of the Bitters"
2960 Pacific Avenue
Livermore, CA 94550-4815
Hosted by Brian Cooper and the Mad Zymurgists homebrew club in Livermore, CA, this competition covers BJCP Category 8 styles.
For more information, contact Brian Cooper at brewerbrian@sbcglobal.net.
Homebrewers Association
Homebrewers Association