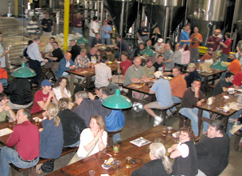 At an AHA Rally, owners and brewers are typically on hand to give VIP tours, beer samples and plenty of door prizes to attendees. It's a great way to meet other beer enthusiasts and homebrewers in your area too.

Entrance to an AHA Rally is always free for AHA members; non-member may join the AHA onsite at a discounted rate to attend.

Space is Limited!
Time: 4:30-7:30 pm
Rally Host: SanTan Brewing Co.
Address: 8 S. San Marcos Place, Chandler AZ 85225
Highlight: Celebrate Arizona Craft Beer Week!

Time: 6-9 pm
Rally Host: Highland Brewing Co.
Address: 2 Old Charlotte Hwy, Ste H, Asheville, NC 28801
Highlight: Meet AHA Founder, Charlie Papazian!

Time: 1-3 pm
Rally Host: Saint Arnold Brewing Co.
Address: 2000 Lyons Avenue, Houston, TX 77020
Highlight: Meet AHA Director, Gary Glass!
Homebrewers Association
Homebrewers Association