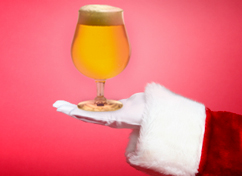 A gift of membership to the American Homebrewers Association (AHA) is a festive way to share your love of beer and brewing with all the special beer-folks on your list.
And now, for a limited time*, receive a free copy of Barley Wine by by Fal Allen and Dick Cantwell, Designing Great Beers by Ray Daniels, or How To Brew by John Palmer.
Along with six issues of Zymurgy magazine, members also receive online access to eZymurgy, discounts at pubs and beer bars, access to the Great American Beer Festival member pre-sale, discounted registration for the AHA Conference and AHA homebrew competitions, and free entrance to AHA Rallies.
There is no easier way to spread holiday cheer than by purchasing an AHA membership Gift Card. Simply visit the AHA Store and purchase an AHA membership gift card & book combo today!
*Free book offer expires December 31; orders must be placed by December 14 for holiday shipping.
Homebrewers Association
Homebrewers Association