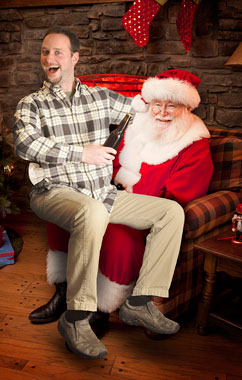 What happens when you stop by a homebrewer's house, even just for a brief visit? He offers you a beer. Ever invite a homebrewer to a party or dinner? Bet she brought a growler of her latest batch. At some point in your homebrewing experience, you probably found yourself needing extra bottle caps or a yeast starter, didn't you? Well, we'd guess that a friend was able to set you up with whatever you needed to finish your brew.
So, what to give the person who is always the giver? How about something that gives back to them as often as they willingly offer their beer, advice or assistance.
Give an American Homebrewers Association (AHA) membership. Six times per year, they'll receive Zymurgy magazine. They'll have access to eZymurgy anytime. They'll get discounts at over 550 pubs, breweries and other great establishments. And, above all, they'll be part of a community of over 28,000 homebrewers like them.
Sure, your homebrewing friend will love an AHA membership, but if you need something a little heftier than a gift card to wrap up this holiday season, you're in luck. Give the gift of AHA membership this season and receive a free copy of Sacred and Herbal Healing Beers, Brewing Classic Styles*, or New Brewing Lager Beer. Who knows… if you play your cards right, this gift idea could result in increasingly delicious gifts from your lucky friend.
*As of December 5, Brewing Classic Styles has sold out. We apologize for the inconvenience.
Holiday orders must be placed prior to December 15, 2011; offer expires December 31, 2011.
Homebrewers Association
Homebrewers Association