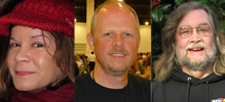 Congratulations to newly elected AHA Governing Committee members Debbie Cerda and Ron Price and re-elected member Denny Conn.
The new members will be officially seated on the AHA Governing Committee June 1, 2012.
Thanks to Bruce Buerger, Terry Denham, Dave Dixon, David Kidd, and Terry Parker for the dedication to the organization they demonstrated by running for the Governing Committee.
Particular thanks go to out-going Governing Committee members Curt Stock (6 years of service) and Gordon Strong (9 year of service).
Homebrewers Association
Homebrewers Association