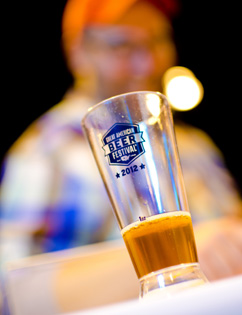 The Great American Beer Festival Pro-Am competition pairs amateur brewers with professional brewers, who scale up the award-winning homebrew recipes to be entered into the largest commercial beer competition in the world. The medal winners, including the winning professional brewers and American Homebrewers Association (AHA) member homebrewers were:
Gold: More Fun Blonde
New Belgium Brewing Co. | Fort Collins, Colo.
Brewmaster: New Belgium Brewing Co. | AHA Member: Jay Shambo
Silver: Pointon's Proper | An English Mild
RAM Restaurant and Brewery | Wheeling, Ill.
Brewmaster: Lanny Fetzer | AHA Member: Scott Pointon
Bronze: Classic American Pilsner
Minneapolis Town Hall Brewery | Minneapolis, Minn.
Brewmaster: Mike Hoops | AHA Member: Kyle Sisco
The AHA caught up with this year's gold medal-winning homebrewer Jay Shambo to find out what it's like to have your recipe take center stage at one of the country's more anticipated beer competitions.
AHA: What was it like to brew on the system at New Belgium Brewing Co.? Where there any challenges working on such a large system?
Shambo: Stepping up from six gallons to 180 hectoliters was surprisingly simple. I worked on the recipe tweaks with Grady Hull, and he knew exactly what we needed to change for the jump in size. In the end, the recipe was really close to my original. The brew day was a lot less work than a typical day on my system. Mostly, we watched the computer monitors to make sure everything was doing what it should.
AHA: What was the feedback like at the Great American Beer Festival Pro-Am booth? Obviously it was well received, but were you nervous/excited/both?
Shambo: Feedback was great. There was a group of us from the Liquid Poets Society (Ft. Collins, Colo. homebrew club) at the members session, so we posed for a few pictures. There was lots of hand shaking, a few other pictures and lots of questions about the beer, etc. To be honest, I was kind of in a daze. I knew it was a big accomplishment, but the fact that our beer had beat all those other great beers hadn't quite sunk in yet.
AHA: What would you tell other homebrewers interested in participating in their local Pro-Am qualifying competitions?
Shambo: You can't win if you don't enter. I've had way more low scoring beers than winning beers, but that's part of the game. Don't be afraid to send out a beer to a competition, even one you know isn't all that great, because you will get great feedback and that can only make your beer better.
The nice thing about competition nowadays is that there are so many great judges, you are almost guaranteed to get advice on how to improve your beer. I had feedback on the same beer that New Belgium picked [for the Pro-Am] telling me that it was too "peppery" for the style. That came from a National-level judge that I know and trust, so that is something that I will take into consideration the next time I brew my blonde ale.
Don't forget that it's just beer. We all love it and take brewing seriously, but if it's not fun, what's the point?
See the complete GABF winners list at BrewersAssociation.org.
Homebrewers Association
Homebrewers Association