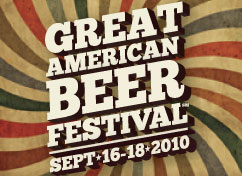 GABF tickets are on sale to Brewers Association and American Homebrewers Association Members as of Tuesday, June 22 at noon MDT. Members were emailed a link to purchase tickets, or can click here to order tickets now.
Note: You will need your member number in order to purchase tickets. Memberships must be valid through September 30, 2010 in order to attend the Members-Only Tasting Session and/or the Farm to Table Pavilion. New and expired members will be able to purchase a membership along with Saturday afternoon Members-Only Tasting Session tickets beginning on Monday, June 28.
Tickets go on sale to the general public on Monday, June 28 at 12:00 noon MDT.
Other member benefits at GABF
In addition to being able to purchase tickets during the exclusive members-only pre-sale, AHA and BA members get access to:
– Members-only entrance to the festival
– Purchase Saturday afternoon Members-Only session tickets
– Purchase Farm to Table Pavilion tickets
GABF presents second Farm to Table Pavilion in 2010
The Farm to Table Pavilion at the 2010 Great American Beer Festival will feature up to 9 breweries and 12 food items. The Farm to Table ticket includes 4-ounce pours, small plates of a variety of fresh and local food items selected to pair with the beers, and a VIP gift. Farm to Table Pavilion ticket holders will enjoy a quiet and comfortable seating area off of the main hall with access to participating farmers, chefs and brewers—affording the opportunity to have meaningful one-on-one conversations about beer and food. Participating breweries will be encouraged to serve special release beers not available in the festival hall.
Farm to Table Pavilion tickets are available to Brewers Association and American Homebrewers Association members only. The Pavilion will be open on Thursday and Friday nights.
The Great American Beer Festival takes place every year in Denver, CO. The 2010 festival will be held September 16-18.
For more information visit: GreatAmericanBeerFestival.com.
Homebrewers Association
Homebrewers Association