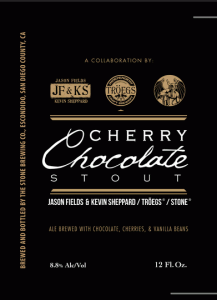 Stone Brewing Co.'s Cherry Chocolate Stout was released July 25 as part of their annual March Madness Homebrew Competition and AHA Rally. Out of the 40 entries judged, Jason Fields and Kevin Sheppard's Cherry Chocolate Stout took home the coveted grand prize—commercial distribution.
The duo, along with Stone Brewmaster Mitch Steele, and guest brewer John Trogner of Tröegs Brewing Company, brewed the up-scaled version of the original homebrew recipe on Stone's 120-barrel system in late April.
The final version was brewed with a blend of dark specialty malts, Callebaut chocolate liquor, vanilla beans, and 9,000 pounds of dark and tart cherries!
Cherry Chocolate Stout hit shelves on July 25 in 12-ounce single bottles. Learn more about this beer from beernews.org.
Available in: AK AZ CA CO DE FL IL KY MA MD MN NC NJ NM NY OH OR PA SC TX VA VT WA
Chocolate Cherry Stout Stats:
7.3% ABV
37 IBUs
2,448 cases produced
Homebrewers Association
Homebrewers Association