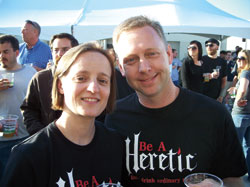 The craft beer lovers at Willamette Weekly, a Portland-based weekly newspaper and website, set out to complete an election of their own in the recent "The President of Beers" competition—and the national winner may surprise you!
The Candidates
The beers chosen were what the panel deemed the "flagship" beer that best represented each state. Once a beer for each state was chosen, they were gathered in one month by any means necessary—there may or may not have been a little bootlegging involved.
The Voters
A panel of 12 voters from many corners of the beer world gathered to judge the 50 chosen beers in one four-hour session. To ensure a fair election, each beer was given a movie themed named so they could be discussed openly.
The Winner
The most popular beer, scoring four whole points above the second place beer, was the only homebrew in the entire competition! Tom Roan and Nancy Bowser's (pictured above) Beaverbear Barleywine was chosen to represent North Dakota as there are currently no operating packaging breweries in the state.
The homebrewers, a mechanical engineer and CPA respectively, have been brewing since 1996 and members of the Prairie Homebrewing Companions homebrew club since 2000.
Read more about the winning beer; find out what beer was chosen to represent your state; and see how it placed in the rankings at Willamette Weekly.
A huge congratulations to Tom and Nancy and homebrewers everywhere for brewing some of the best beers in the world!
Homebrewers Association
Homebrewers Association