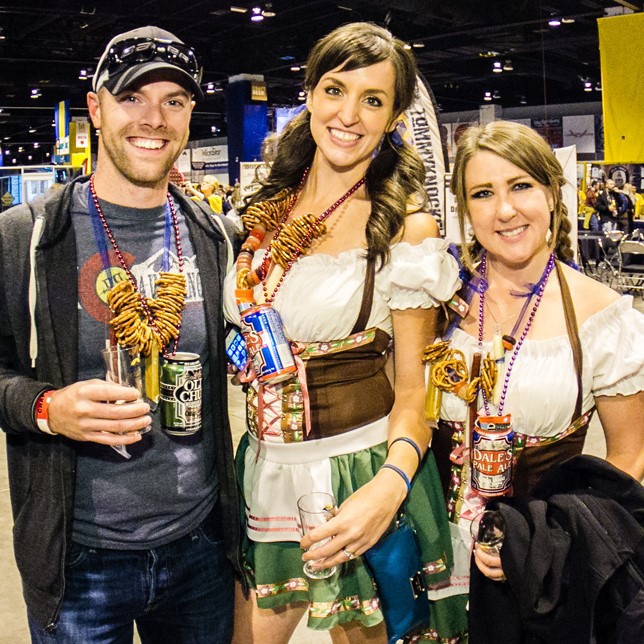 I suspect most of you have held a homebrew judging event for your club. Perhaps you've even expanded a bit to include a private homebrew beer tasting event. Now your club wants to take the next step and hold a beer festival with commercial brewers. Great!
But wait—do you know what it will take to organize the festival? A festival is similar in some ways to the homebrew judging and tasting events you've already sponsored, but it's more complex, with lots of moving parts and legal liabilities. In this article, we will look at a few of the major questions you will need to answer and the key steps you will need to take to get started.
Who am I to suggest what it takes to organize a festival? In 2007, I started the All Colorado Beer Festival (ACBF) in Colorado Springs, Colo. This year's 11th annual ACBF featured 75 brewers from Colorado who brought more than 200 beers for our 3,000 guests to sample. We raised enough money to donate $65,000 to our beneficiaries this year, bringing the cumulative total to nearly $500,000 since the festival was established. We've learned a lot in 11 years and want others to benefit from what we have learned.
Why Have a Festival?
Well, the first reason is that the result can be a lot of fun for you, your club, and your community. However, given the amount of work required to put on your festival, you should consider a greater purpose. We started the ACBF specifically to raise money for local nonprofit organizations. The best part of our yearlong planning process is writing big checks to our beneficiaries.
If starting your own festival seems like too big a step, consider collaborating with an existing festival. Our local homebrew club runs a formal beer-judging event at the ACBF using BJCP standards. Our brewers love this because it is professionally run and offers them solid critiques (and medals) for their beers.
Festival Saturation
Before you decide to start your own festival, take a hard look at the competition in your community. When we started the ACBF in 2007, there were relatively few beer festivals in our area. Now, there's one almost every weekend. Unless you can find a free weekend with no other festivals, starting a new one may be a bad idea.
And, it's not just saturation for the guests who will buy your festival tickets; your brewers are also overloaded. Most brewers are asked to support an event almost every week. In addition to potentially donating beer, brewery staff must spend time supporting the event. Most brewers create their festival schedule early in the year and then turn down additional requests.
Showcasing Your Club's Homebrew
Most homebrewers would love to showcase their beers to the public, which raises the question of serving homebrew at your festival. Generally, this is illegal. This varies somewhat state to state, but some states prohibit distribution of homebrew in a public setting. Check your local laws carefully before you consider including homebrew at the festival.
Major Festival Expenses
Here are the largest expenses the ACBF incurs each year:
Beer: Many festivals pay brewers for the beer they bring to the festival. The ACBF does not, but we also do not charge brewers to participate. If you decide to pay your brewers for the beer they bring, this will be a major expense. Consider offering $50 per sixth-barrel keg (sixtel), which means a festival with 100 beers will see a $5,000 expense for this item.
Venue rental: You need a place to hold the event. If you can get a place free or at reduced cost, so much the better because venue rental will probably run $5,000 to $7,500 or more. If you are working to generate money for charitable causes, someone may be willing to provide space at no charge or at reduced cost.
Equipment rental: We provide draped tables and booth pipe and drape for each brewer. You can ask the brewers to bring all their own equipment to save, but we believe it's important to cater to our brewers' needs. Tables, draping, and other equipment can run $2,500 or more for a large event.
Tasting glasses: Your guests need something to drink beer from. We use nice Pilsner-shaped plastic cups that hold up to 5 ounces (150 mL). Buying in bulk brings the cost down to about 85 cents each, which still means about $2,500 worth of cups for an event with 3,000 people. Remember that you will also need glassware for guests, brewers, and volunteers. You may be able to get a sponsor to donate cost of the cups for your event in exchange for printing their name on them.
Security: Event security is important. We started with our own volunteers providing security but quickly learned that a professional security staff is necessary. An eight-person professional security team will run about $2,000 for the day and is worth every penny.
Volunteer shirts and hats: You need to distinguish your volunteers from the rest of the crowd. We outfit each volunteer with a printed T-shirt, and our volunteer captains get a shirt and hat. For our festival, we have about 200 volunteers and 24 planning committee members, captains, and assistant captains. Our cost for shirts and hats is about $2,000.
Insurance: You need general liability and liquor liability insurance for your event. This will probably cost about $1,500 for one day (editor's note: homebrew clubs can sign up for the AHA's club insurance program, which covers events up to 1,000 people).
Ice: You will need a lot of ice to keep the beer chilled. We use almost 3 tons (2,700 kg) of ice for 75 brewers and 225 beers, which represents about $1,000 worth of ice at a rate of 30 pounds (14 kg) per beer. This rate is a good rule of thumb, but the amount of ice you will need will vary based on local conditions. This is another area where you may be able to get a donation or sponsorship.
Entertainment: Most festivals include entertainment. Depending on the length of your festival, number of sessions, and other factors, this cost may vary from $500 to $1,500 or more.
The total for these major costs is about $23,000, but don't be discouraged. You can start small and build up over the years. Also, if you charge $40 per guest, you need fewer than 600 guests to break even.
Conclusion
I hope I haven't painted too scary a picture. However, I want you to be sure you go into your festival with full knowledge of what it will take. We love producing the ACBF and have made it a success over the years.
For additional suggestions and tips for hosting a beer festival through your homebrew club, check out The Good Life: Raising Phenomenal Financial Resources for Your Homebrew Club by Ron Minkoff in the May/June 2018 issue of Zymurgy.
Homebrewers Association
Homebrewers Association