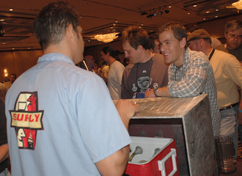 Pro-Brewers Night may be over for this year, but over 39 clubs are preparing their beer and displays for this evenings Club Night. Tonight there are prizes to be won and homebrews to be enjoyed, but not before a full day of seminars. Friday includes the Keynote Address by Mike Stutrud of Summit Brewing Co. at 1:30 p.m. in the Grand Ballroom and the AHA Members Meeting at 5:15 p.m. in Plaza 5 & 6.
Also, if you aren't able to make this years conference, The Brewing Network will once again be boadcasting live from the Awards Banquet and this year there will audio and video! For more information, visit TheBrewingNetwork.com or Justin.TV/Brewingnetwork.
Get the most up-to-date information and pictures on our Facebook page and at the official website.
Homebrewers Association
Homebrewers Association