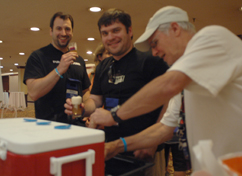 What do you get when you mix Minnesota, 1,200 homebrewers, hundreds of gallons of homebrew and Babe the blue ox?? The 2010 National Homebrewers Conference (HBC)I! As the first offical day of the conference begins, attendees will have six seminars to choose from and Pro-Brewers Night to look forward to this evening.
Pro-Brewers night will feature 48 breweries from across the country. This mini beer festival is a favorite of conference attendees and a perfect ending to the first day of the conference.
Today is also the Final Round of the National Homebrewers Competition. Judges will score over 800 beers today deciding on the gold, silver and bronze winners in 28 categories. The winners will be announced on Saturday night at the Grand Banquet and Awards Ceremony. Good luck to all the Final Round entries!
Get the most up-to-date information and pictures on our Facebook page.
Homebrewers Association
Homebrewers Association