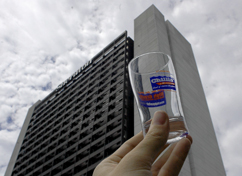 1,200 homebrewers have begun their invasion of Minneapolis for the National Homebrewers Conference (HBC).
HBC is off to a rockin' start this morning with a full day of registration and pre-conference events organized by the local committee. We will be updating the HBC web site, ahaconference.org, daily with pictures and commentary from conference for those of you who aren't able to make it to Minneapolis this week.
If we have any Twitter fans out there, use #HBC2010 when tweeting about the conference so your tweets show up in the Homebrew Tweets section of the website (bottom right of the homepage). If Facebook is more your speed, check out the live updates here!
Homebrewers Association
Homebrewers Association