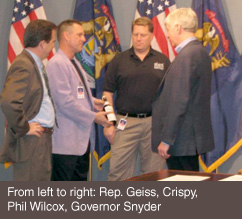 On Thursday, November 10, 2011, Michigan Governor Richard Synder signed HB 4061 into law. The bill makes it legal for brew pubs, restaurants and other businesses licensed to sell alcoholic beverages on-premises to host homebrew club meetings and other club events where homebrew is served.
On hand for the signing were bill sponsor Representative Doug Geiss (who happens to be a homebrewer), AHA Governing Committee Chair Chris P. Frey (aka Crispy) and long-time AHA member Phil Wilcox, who recently opened Local Pub & Brewery – JaXon Beer Co.
The AHA has been working with Representative Geiss and Crispy on this bill for the past two years.
Congratulations to Michigan's homebrewers on the passage of this important legislation.
Homebrewers Association
Homebrewers Association